Pilea melastomoides (Poir.) Wedd., Ann. Sci. Nat., Bot., sér. 4, 1: 186 1854. (Syn: Adicea melastomodes (Poir.) Kuntze; Dubrueilia melastomoides (Poir.) Gaud.; Pilea cuneatifolia Yamam.; Pilea elongata (Bl.) Miq.; Pilea oreophila Bl.; Pilea ovatinucula Hayata; Pilea pellucida Bl.; Pilea trinervia (Roxb.) Wight (ambiguous synonym); Pilea trinervia Roxb. (ambiguous synonym); Urtica cataractae Steud.; Urtica elongata Bl.; Urtica gibbosa Zipp. ex Bl.; Urtica melastomoides Poir.; Urtica oreophila Miq.; Urtica peduncularis Sm.; Urtica trinervia Roxb.);
China (SW-Guangxi, Guizhou, Hainan, S-Yunnan), Taiwan, SE-Tibet, Java,
India, Sri Lanka,
Vietnam, Myanmar [Burma], Philippines (Luzon)
as per
Catalogue of Life
;
Broad-leaved forests, shaded wet places by streams
;
700-1800 m. SW Guangxi, Guizhou, Hainan, Taiwan, SE Xizang, S Yunnan [India, Indonesia, Sri Lanka, Myanmar, Vietnam]
as per
Flora of China
; 
---
Dioecious subshrubs, glabrous. Leaves to 19 x 9 cm, ovate, acuminate, rounded at base, serrate, 3-ribbed, nervules parallel, pubescent along nervules below; lineoles crowded; petiole unequal in opposite pairs, to 10 cm long. Male panicle 10 cm across, axillary; flowers sessile, 4 mm across; perianth lobes 4, ovate, acute; stamens 4. Female panicle 2 cm across, shortly peduncled. Flowers smaller than male flowers; perianth lobes 1 mm long, stigmas 3-fid. Achenes 1 mm across, biconvex. 
Flowering and fruiting: August-December
Evergreen and shola forests
Kindly help to id this
shrub found near a water-falls, at bear shola in Kodaikanal
.
Any possibilities for this to be a
Urticaceae
member?
Date/Time-
06-11-2010 / 11:00 AM
Location- Place, Altitude, GPca.
2200asl; Kodaikanal, TN
Habitat- Garden/ Urban/ Wild/ Type-
closer to water-falls
Plant Habit-
shrub
Height/Length-
1 -2 m
Leaves Type/ Shape/ Size-
12 x 5 cm
Inflorescence Type/ Size-
axillary; 5-7cm longer
Flowers Size/ Colour/ Calyx/ Bracts-
greenish-yellow
---
– I think you are correct … as because the leaves imitates members of Melastomataceae
---
– I agree. It is easy to identify Pilea melastomoides from the swollen internode shape (though not visible in the pics). I ll post some pics the sp collected from my study area.
---
---
Habit: Undergrowth Shrub

Habitat : Hill forest, along the stream

Flowering: May

Location : Kaptai NP, Chittagong Hill tracts
---
Pilea trinervia Wt.
---
Pilea melastomoides is Synonym ?
---
---
Chikamagalur-Kemmangudi Road
14th October 2014
I am not entirely certain about the habit of the plant, it could have been shrubby. It was growing along the road
---
Must be some Pilea species (Urticaceae).
---
Pilea melastomoides
---
For me … is right.
---
.
---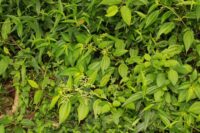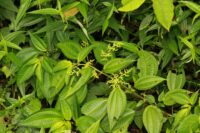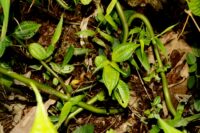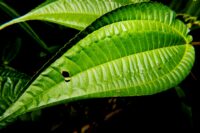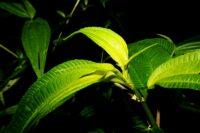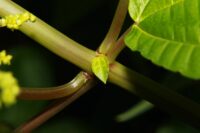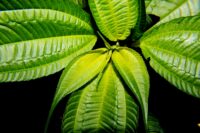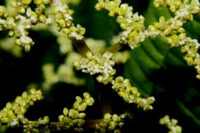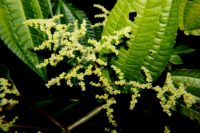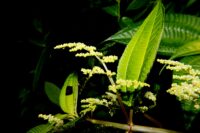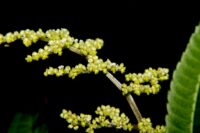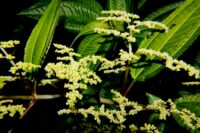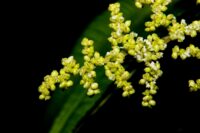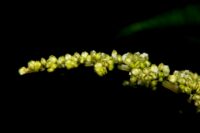 363 ID wild plant Pouzolzia:
Please ID wild plant,
Location: near Vannappuram, Thodupuzha, Idukki Dist., Kerala PIN:685607
Altitude: 1500fsl
Flower date: 03SEP2022, 10.50am
Habitat: wild moisture, shady dripping rocky
Plant habit: small shrub, erect/obliquely, branches, weak semi-fleshy green cylindrical glossy stem 13mm base diameter, annual
Height: 01.5 meters
Leaves: opposite, heart-shaped/elliptic, acute, size upto:13×6cm
Flower: axillary panicle racemose, clustered, micro sized, white, non fragrant
Fruit:
Seed:
Camera: CANON EOS1500D +FL10x
---
Pl. check
https://efloraofindia.com/2011/03/21/pilea/
---
It is very close to Pilea melastomoides, thank you very much for ID my plant
---
Agree !
---
References: