Solanum elaeagnifolium Cav.
,
Icon. 3: 22-23, pl. 243 22 1794
. (Syn:
Solanum dealbatum Lindl.
;
Solanum elaeagnifolium var. angustifolium Kuntze
;
Solanum elaeagnifolium var. argyrocroton Griseb.
;
Solanum elaeagnifolium var. grandiflorum Griseb.
;
Solanum elaeagnifolium var. leprosum (Ortega) Dunal
;
Solanum elaeagnifolium var. obtusifolium (Dunal) Dunal
;
Solanum flavidum Torr.
;
Solanum leprosum Ortega
;
Solanum obtusifolium Dunal
;
Solanum saponaceum Hook.
);
.
U.S.A. to Mexico, S. South America:
Alabama, Argentina Northeast, Argentina Northwest, Argentina South, Arizona, Arkansas, California, Chile Central, Chile North, Colorado, Florida, Georgia, Idaho, Illinois, Indiana, Kansas, Kentucky, Louisiana, Maryland, Mexico Central, Mexico Gulf, Mexico Northeast, Mexico Northwest, Mexico Southeast, Mexico Southwest, Mississippi, Missouri, Nebraska, Nevada, New Mexico, North Carolina, Oklahoma, Oregon, Paraguay, South Carolina, Tennessee, Texas, Uruguay, Utah, Washington;
Introduced into:
Albania, Algeria, Aruba, Bahamas, Cape Provinces, Cuba, Cyprus, East Aegean Is., Egypt, Free State, Greece, Gulf States, Hawaii,

India,

Iran, Kriti, KwaZulu-Natal, Leeward Is., Morocco, Namibia, Netherlands Antilles, New South Wales, Northern Provinces, Northern Territory,

Pakistan,

Palestine, Puerto Rico, Queensland, Sinai, South Australia, Tunisia, Victoria, Western Australia
as per
POWO
;
Common name:
 Silverleaf Nightshade, Prairie Berry, Silverleaf Nettle, White Horsenettle
.
---
---
… the species name was not come in my mind right away though I identified it last time as Solanum elaeagnifolium
---
---
---
---

Wild Plant For ID : California : 14DEC14 : AK-41 : 2 posts by 1 author. Attachments (2)
Small wild plants observed on way to Los Angeles on 2/10/14.
No flowers.
The leaves were wavy and had thorns.
Solanum
Species?
Just a guess.
---
Solanum elaeagnifolium, common name Silverleaf Nightshade looks very close to my pictures.
---
A small plant growing wild.
No flowers.
Kindly validate.
---
| | |
| --- | --- |
| 30-06-2010- Coimbatore Dist., TN; | |
---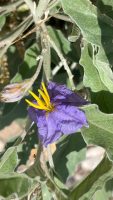 Solanum elaeagnifolium from USA: 2 images.
Solanum elaeagnifolium
Solanaceae
From Lubbock, Texas
---
Yes, appears close as per images at
https://efloraofindia.com/2011/03/30/solanum-elaeagnifolium/
---