Andaman Is.; Assam; Bangladesh

; Chagos Archipelago; China Southeast;

East Himalaya

; Hainan;

India

; Japan; Jawa; Malaya; Nansei-shoto;

Nepal

; Philippines; Solomon Is.; Taiwan; Tanzania; Thailand; Vietnam;

West Himalaya
as per
Catalogue of Life
;
Trop. & Subtrop. Asia
as per
WCSP
;
Malayalam: Tartaval, Kudalchurukki, Nattachuri; SANSKRIT: Vasuka, Booka; 
Rubiaceae Week – Spermacoce hispida from Coimbatore.: Sharing the images of Spermacoce hispida from NBNP, Anaikatti, Coimbatore.
Thanks to EFI Members for their help in identification of this sp.
---
Side view of flower would help in deciding whether it is S. articularis or S. hispida
---
Please go through this thread (my last mail)
Thank you sir, Her are some pictures of different views. This plant was noticed immediate after rain.
---
---
.
---
Pl. find the attached file contain photo for. id. request.
Location:
NBNP, Anaikatti, Coimbatore
Date: 01.12.2011
Can this be a Borreria species?
---
Looks like Borreria hispida but the size of the leaves are giving me some trouble to confirm the ID
---
Yes this species is Spermacoce hispida L.
Syn: Borreria hispida (L.) K. Schum.
Borreria articularis (L.f.) F. N. Will. var. hispida (L.) Sivar. & Manilal
---
Agree with … Spermacoce hispida syn. Borreria hispida. This is a common weed in Mysore .
---
---
Please ID this creeping medicinal plant with white flowers. Phoro was taken in Sri Lanka in Oct 2012.
---
Spermacocce sp
---
it's dumb sure S. hispida, sir.
---
S. hispida
---
.
---
Please ID this creeping herbaceous plant with medicinal properties. Flowers are white. Taken in Sri Lanka in May 2012.
---
Spermacoce sp.
---
It should be Spermacoce hispida L. as per comparative images at Spermacoce and as per keys at Flora of China
---
---
Hooghly-skMAY23/24 Spermacoce hispida L.??? : 8 posts by 3 authors. Attachments (3)
Yesterday I went to the place where I found what i thought to be
Leucas aspera
(Willd.) Link. But the population was invisible there. Instead i noticed a population of this
herb, a bit stout, less than 1 ft height, possibly on the onset of flowering season.
Leaves are around 1.5 to 2 cm.
Leaf thickness, fruit supports it to be Spermacoce hispida, colour variation is prevalent in this species.
---
Thank you Sir, but number of flowers seem to be too many. Attached here
new photographs, recorded a couple of hours ago.
The flowers seem to
open during evening or very early morning.
Attachments (12)
---
For me the ID is correct.
---
Thank you very much Sir, this is the most likely id of this strange species. I face two problems though –
I couldn't find an open flower unlike other threads of this species
Number
of flowers in a whorl doesn't tally with lit. I have with me or with
info found in the net. There are as many as 6-8 flowers in each distal
whorl and 18 flowers in each proximal whorl
It appears to me that this species is a combination of S. scabra and S. hispida of Flora Indica! TPL thinks S. scabra is synonymous with S. articularis L.f.; but this species neither tally with the description of FoC nor with Flora Indica.
Finally, even the paper, "Taxonomic and Nomenclatural Notes on the Spermacoce hispida-articularis Complex and S. stricta-pusilla Complex (Rubiaceae) / V. V. Sivarajan and R. Vasudevan Nair" doesn't help!
---
Sondalia, WB, 16.10.2016
---
Pl. check Spermacoce species.
---
Spermacoce hispida, I think.
---
---
Picture take,
Sep,2018
from Sonadia Island, Cox's Bazar
---
Pl. check species available at
---
It seems Spermacoce articularis
---
Picture take,
Sep,2018 from Sonadia Island, Cox's Bazar
---
Pl. check species available at
---
Reply from another thread: It seems Spermacoce articularis
---
Boreria articularis, Rubiaceae
---
Is it just not the another name of the species already suggested ?
---
---
---
Spermacoce articularis for confirmation:  Spermacoce articularis I think.
Would appreciate a confirmation
saw it on the sand dunes of a beach in south maharashtra on the border of goa end of november last year.
---
Confirmed. it is Spermacoce articularis L. f.
Syn: Borreria articularis (L.f.) F.N. Will.;
Description
:
Diffuse herbs; stem 4-angled, adpressed minutely hairy. Leaves 1-2.5 x 0.8 – 1.4 cm, elliptic or obovate, base attenuate, margin flat, rarely flexuous, apex obtuse, acute, apiculate, more or less scabrid on both sides; stipules with long subulate hispid bristles. Flowers in axillary, few-flowered sessile clusters. Calyx-tube obovoid; lobes 2, c. 1.5 mm long, with 2 intermediate teeth, hairy. Corolla pinkish-white, tube funnel-shaped, usually much longer than lobes, c. 2.5 mm long, with a ring of hairs inside. Stamens 4, exserted. Capsule 4-6 x 3-4 mm, globose, hispid, 2-valved, splitting septicidally into two mericarps then septum ditaches from the valves, releasing the seeds. Seeds 2-3 mm long, oblong, brown, reticulate.
Eng. Name: Shaggy buttonweed
---
---
---
Puducherry  near sea coast
Date: October 13, 2019 … Altitude range: about 0 – 3 m (0 – 10 feet) asl  
Spermacoce hispida  L.
Many thanks to …

for help with ID at
facebook
.
---
---
Saw this
small herb
with tiny pink flowers
in the ancient ruins complex
in Hampi, KA in October 2019.
Requested to please provide ID.
---
Neanotis sp. ??
---
Thanks … Could not find any matching pic in efi.
---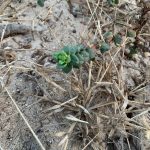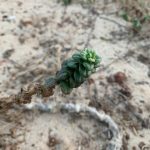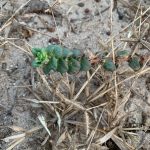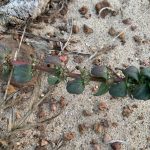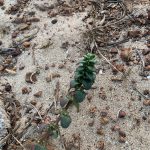 Konkan, MH :: Small plant on beach for ID :: ARK2021-028
: 5 images.
Seen this s
mall plant on the

Devgad

beach,
MH in the last week of December 2020.
I think close to images at Spermacoce hispida

---
References: