Lemon, Nibu;
---
Fruits & Vegetables Week: Citrus limon, the lemon:
Citrus limon, the lemon, the commonest source of lemon juice, the fruit characteristically pointed at the tip.
---
– This in Marathi is called Idlimbu???? Just recently when  had been to Sibsagar Assam, I saw that almost all houses had a tree of ths plant along with Aamla. In their daily meals they take a large piece of this lemon either cut round or elongated. They eat it just like that or with salt. I know that it is a good source of Vit C, but eating such a big piece of lemon raw by everybody, without exception was new to me. Why so much vit C is consumed? How come every house has there qwn trees of lemon and Aamala? Can somebody from Asssam on the group explai? They also presented around a dozen of these lemons to each of us. I could make two bottles of pickeles of it.
---
– In California also I found one big slice of lemon being served with most dishes and often fixed on the top a glass of lemonade or juice, or a bowl of salad. Matter of in plenty and use.
---
– Even though it is acidic in nature, it is good for acidity and the body absorbs the vitamins better from the food, if it is mixed with the lemon juice.
---
---
Fruit and Vegetable Week- Lemon:
Sending photo of Lemon and Lemon tree.
Place : Nashik, Maharashtra.
Date   : April 2009
lemon byproduct:
i want to know about lemon powder, lemon juice and other product recipe. can any one told me any sources ?  
---
.
Rutaceae Week: Citrus limon (L.) Burm,f. from California and Baijnath:  Citrus limon (L.) Burm,f., Fl. Indica 173 173 1768.
syn: Citrus medica var. limonium Watt.; Citrus medica var. limon L.
Common names: Lemon
Hindi: Baranibu, pahari nimbu, pahari kagzi nimbu
Beng: Baranebu, goranebu
Guj: Motulimbu
Mar: Idalimbu, thoralimbu
Kan: Bijapura, bijori
Tam: Periya yelumichai
Tel: Bijapuram
Fruits the size of Citron, almost double the size of lime but with nearly oblong in shape and pointed at one end, the skin thinner, smooth and turning yellow when ripe.
Used in beverages.

Photographed
from California and Baijnath in Uttaranchal Pradesh.
---
---
Citrus limon 'variegata'
Cultivar of lemon with variegated leaves and fruits.

Photographed
from Tourism Festival, Garden of Five Senses
Delhi
in February 2015
---
---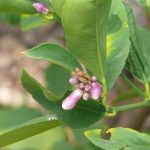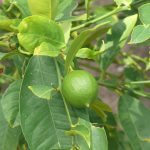 Citrus Plant for ID : Fremont : 09SEP21 : AK – 006
: 2 images.
While going through my California plants, I found some I had missed earlier.
A cultivated garden plant.
---
Citrus meyeri I hope
---
POWO lists it under Citrus limon (L.) Osbeck.
---
Some links:
https://plants.ces.ncsu.edu/plants/citrus-x-limon-meyer/
mindenpictures
alamy
---
---
Rutaceae week: Citrus sp. from Hooghly: I recorded these pictures in three villages in Hooghly. I do not know the correct ID of this lime. I was trying to get hold on C. aurantifolia and C. medica by going through previously uploaded group messages. But it is still not clear to me. Though the attached pictures were taken from four individual shrubs, from time to time since 2009, i hope the plant species is same in each photograph.
Species : Citrus aurantifolia ???
Habit & Habitat :
shrub, garden, backyard
Date : please see the text
Place : please see the text
PHOTO SET 1 : pictures taken on 09-May-2012, 10.30 A.M.
at Garalgacha (Hooghly)
:-
PHOTO SET 2 : pictures taken on 10-May-2012, 02.10 P.M.
at Krishnapur (Hooghly)
:-
PHOTO SET 3 : pictures taken on 06-May-2012, 09.50 A.M.
at Nalikul (Hooghly)
:-
This plant is a safe resting shade for birds (my own backyard in 2009 & 2010) :-
This species is also LF plant of various butterflies (my own backyard in 2009 & 2010) :-
This is my last post in the ongoing Rutaceae week. I feel sad that i do not know any more member of this family.
---
I cannot comment on the exact id of the posted plant, but that doesn't stop me liking your beautiful post, shows the time taken, patience and a keen observation. Thanks for all yours efforts to share this information….
---
These days the birds are going wary. I think rapid destruction of their habitat is greatly reducing their numbers. Their food and nesting habit are also changing. It was easier to photograph a bird in 2009, even with a 5x zoom!
---
I think this is Citrus aurantifolia (Christm.) Swingle.
My guess is based on the following websites/document –
Some more related links –
---
Pl. also consider Citrus longilimon, as per images and details herein.
---
I am not sure, Sir, how about Citrus × limon (L.) Osbeck of KEW or FoC, and synonymous with Citrus limon (L.) Osbeck of BSI?
---
Yes, the taxonomy of Citrus is quite complex with different databases saying different things.
Citrus longilimon
is an unplaced name as per 
POWO
 (and not accepted by 
Govaerts, R., Nic Lughadha, E., Black, N., Turner, R. & Paton, A. (2021))
 and not found in CoL and TPL.
So we may very well keep it at 
Citrus limon
, for the time being.
---
.
---
I photographed it this morning.
A 10 ft shrub
, didn't find flower,
fruits are about 2 inches long
.
I think this is same as in my previous post.
---
efi page on Citrus medica  
---
To me this is a cultivar of Citrus aurantiifolia
---
Is Citrus aurantiifolia same as Citrus x aurantiifolia?
Is
Citrus aurantiifolia
 same as
C. aurantifolia
?
Is
Citrus aurantiifolia
 synonymous with
C. medica
 var.
acida
?
---
If I am not mistaken, yes it is.
---
Thank you very much again, …
The problem is Flora of Pakistan treats C. medica var. acida and C. aurantifolia two different taxa.
---
eta gondhoraj lebu na?
---
Lebu dekhe ami chinte parina konta gandhoraj ar kontai ba kagji, loke thik mato bolte pareo na!
Roxburgh Saheb Citrus acida R. er katokguli variety r katha likhechen –
1. pati leboo
2. kagji leboo
3. gora leboo
4. china-gora leboo
5. camaral leboo
6. Rungpore lime
7. taba neboo
8. Arabian lime
9. meetha lemoo
Roxburgh Saheb er
C. medica
 Willd. holo "lemoo or nemoo"!
---
roxburgh ki bolechhe jante chai na
onake jara help korto tara hoyto  janto na ba  sada lokera  old indian language pronounciation  bhalo kore shunte parto na.. onek bhul bhal  transcripiton korechhe… sanskrit books gulo dekhleyi boja jayi..
amamder rangpur lime and gondhoraj lebu niye koyek jon modern sada lokera usa te niye giye nijer name patent koriye niyechhhe jemon… MEYERS lemon
India ke crdit o dayi na, but everybody knows lebu of all kinds arose in india….
google kore dekho
amra meyers lemon khub dam diye kintum … gondharaj lebu khabo bole
bochhore ekad baar…
ar ote bij neyi je churi korte parbe…
amader lebu amaderi-i jante hobe, roxburgh er opore depend korle hobe na..
BSI hoyto list baniye che notun kore
we need to ask
May be … janen
---
Yes, Didi, gandhoraj ar Rangpur er byapare Times ar Telegraph e article royeche.
---
links?
---
See below the links-
USA r ekti botanical collection e eyi peyechhilum… onek bochhor age..
label says citru X limonia
Rangpur lime
Lebur khub ekti chhobi tuli ni
ran out of film
but whatever is showing
these donot look anything like the gondhoraj lebu
I remember running my fingers on the yellow skin and scent inhaling… was nice but not gondhoraj scent
the  gardener working "really keeping an eye on " visitors said the lebus had seeds and was quite sour to taste…  he was not impressed with any nostalgia imposing scent…
please read these modern papers,  right now I have to run but I promise I will also read it again.. i had discovered this edu site a few years ago, very thorough professors …
their 3 is also quite informative
---
Thank you Didi, I took a quick glance this afternoon, very informative, but not helpful to species level ID, I think.
---
I agree with …, this is likely to be C. aurantiifolia or hybrid.
---
that was the idea, …
its one of the myriad hybrids
did it not strike you that out of the lemon seeds or saplings carried westward by the arab caravans and sold to italians et at ( venice was a trading post for them) … so many cultivars and then hybrids developed in a span of only a couple of centuries…??
AND EVERYBODY AT EFLORAINDIA THAT GET THIS EMAIL:
think of the big picture and why was lemon a center of so..oo..o much activity, in the western world in several continents including australia, starting in the late 15th century to 17th century especially … and in california and florida in 19th and 20th century…these chapters show us that activity…???
but why???
I know it, do you?
I want to hear all the stories and ideas
---
Except for commercial exploitation I fail to think of any other cause. The Citrus is/was mostly Asian origin, rather SE Asia.
---
the chapter 3 i said was more informative
that's where the keys are for the whole clan and kaboodle
citrus  is halfway down the page/chapter
you'll have more than what you want
chapter title is :
The Botany of Citrus and Its Wild Relatives
BY WALTER T. SWINGLE
Revised by Phillip C. Reece CHAPTER 3
its from UC Riverside

they do a good job
References: