Koenigia alpina
(All.) T.M.Schust. & Reveal (syn:
Aconogonon alpinum
(All.) Schur;
Aconogonon alpinum
var.
elephantinum
Stepanov;
Aconogonon diffusum
(Willd. ex Spreng.) N.N. Tzvel.; 
Aconogonon dshawachischwilii
(Charkev.) Holub;
Aconogonon dshawachischwilii
(Charkev.) Sojak;
Aconogonon jeholense
(Kitagawa) Hara;
Aconogonon polymorphum
Nakai;
Gononcus undulatus
(Murr.) Raf.;
Persicaria alpina
(All.) H. Gross;
Persicaria dshawachischwilii
(Kharkev.) Cubey;
Pleuropteropyrum alpinum
(All.) Kitag.;
Pleuropteropyrum japonicum
(Maxim.) Nakai;
Pleuropteropyrum jeholense
Kitagawa;
Pleuropteropyrum undulatum
(Murr.) A. Löve & D. Löve;
Polygonum acidum
Pall.;
Polygonum alpinum
All.;
Polygonum ciliatum
Willd. ex Spreng.;
Polygonum diffusum
Willd. ex Spreng.;
Polygonum divaricatum
Vill.;
Polygonum dshawachischwilii
Charkev.;
Polygonum jeholense
(Kitag.) Baranov & Skvortsov ex S.X. Li & Y.L. Chang;
Polygonum latifolium
Kotschy ex Boiss.;
Polygonum ochreatum
Willd. ex Meisn.;
Polygonum polymorphum
Ledeb.;
Polygonum polymorphum
var.
japonicum
Maxim.;
Polygonum sibiricum
L. fil.;
Polygonum undulatum
Murr.;
Polygonum weyrichii
var.
alpinum
(All.) Maxim. ex Franch. & Sav.) as per
Catalogue of Life
;
Temp. Eurasia:
Afghanistan, Albania, Altay, Amur,
Assam,
Austria, Bulgaria, Buryatiya, Central European Rus, China North-Central, Chita, Corse, East European Russia, France, Greece, Inner Mongolia, Iran, Irkutsk, Italy, Kazakhstan, Khabarovsk, Kirgizstan, Korea, Krasnoyarsk, Magadan, Manchuria, Mongolia, North Caucasus, North European Russi, Northwest European R,
Pakistan
, Qinghai, Romania, Spain, Switzerland, Transcaucasus, Turkey, Tuva, Ukraine,
West Himalaya,
West Siberia, Xinjiang, Yakutskiya, Yugoslavia
; introduced into:
Denmark, Finland, Great Britain, Norway, Sweden
as per
POWO
;
. 
Polygonum alpinum All.
is considered as an accpeted name by Tropicos &
Flora of China
,
while
GRIN
(
updated in 2009) considers it as a syn. of Aconogonon alpinum (All.) Schur.

Which one should we consider as correct.
---
In my opinion, Aconogonon alpinum (All.) Schur.
---
Thanks a lot, …
---
Location Pangi valley
Altitude 2700mts
Habit herb
Habitat wild
Height 3 feet
---
wild wild wild guess some Filipendula? German name "Mädesüß"
grows in shady places near water. Don't know, if found in India high altitudes.
---
some Polygonaceae member for sure. Ancogonum?
---
I hope Persicaria wallichii (syn: Polygonum polystachyum)
---
I have lot of confusion in the family Polygonaceae particularly the genus Polygonum, Ancogonum, and Persicaria. If we refer to few contemporary flora of the Himalayan region there are lot of confusion.
Flora of Bhutan, Flora of China and our other Indian floras from the region, there are lot name changes, mereger etc. etc. Do we have any good and recent revision of the family?
---
.
---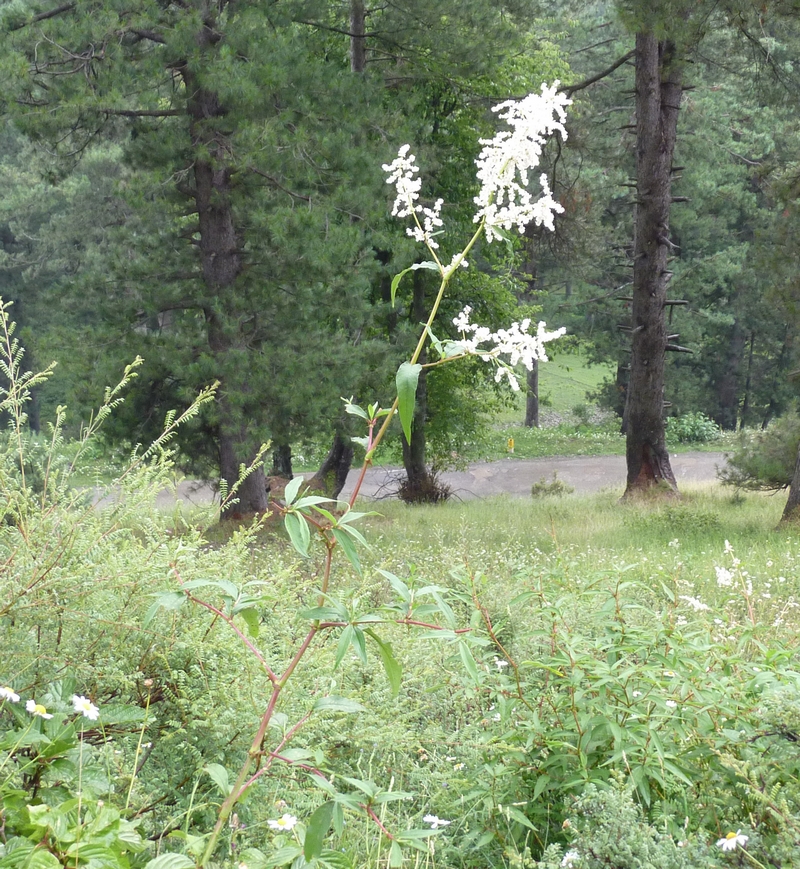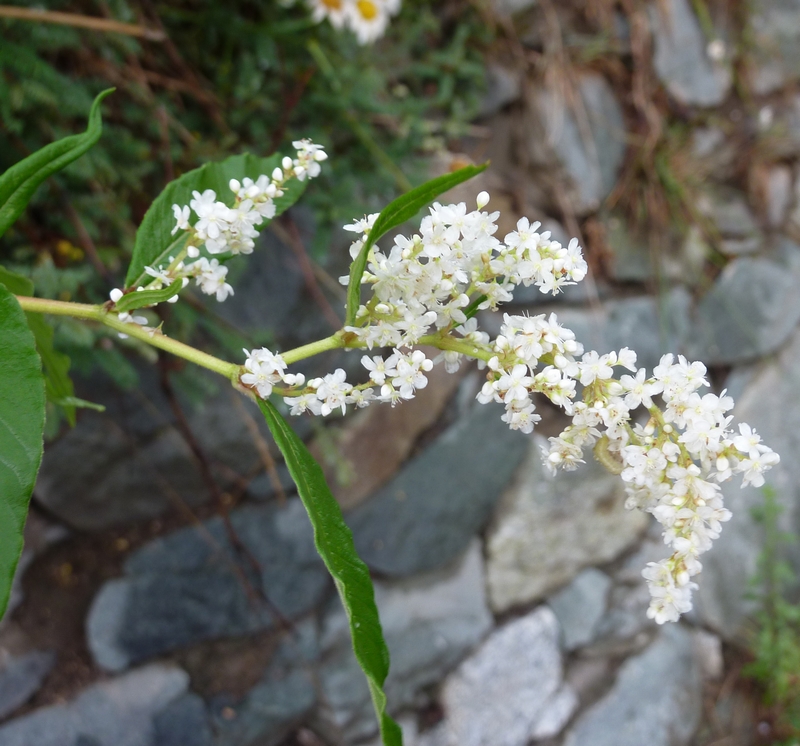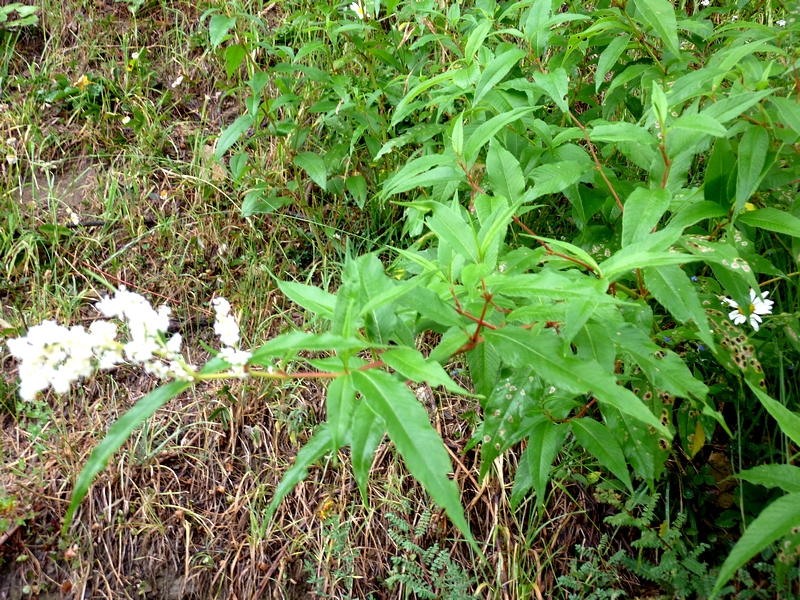 Polygonaceae Fortnight: Persicaria wallichii from Kashmirr-GSMAY48 : 3 posts by 2 authors. 3 correct images as above.
Persicaria wallichii Greuter and Burdet
syn: Polygonum polystachum Wall. ex Meisn; Acocogonum polystachyum (Wall. ex Meisn) M. Kral
Photographed from below Gulmarg in Kashmir.
---
Thanks Sir, I think this is very fast spreading and noxious weed..
The last picture in this mail got attached inadvertently..
---
Yes … Last picture is coccoloba herbarium sheet
---
---
References: