Pakistan (Dir, Swat, Hazara, Murree), Pakistani Kashmir (Astor, Gilgit), Jammu & Kashmir (Kashmir)
as per
Catalogue of Life
;
---
Plant for ID from Paddar valley J&K. 131111 SRANA 01: 1 image.
Request for Identification:
Location: Paddar valley district Kishtwar J&K.
Altitude: 2720 meters asl.
Plant habit/habitat: Wild

Plant height: 45 cm
.
---
Looks like Pedicularis pectinata, although flower colour is much lighter. close up of flower with beak is necessary for species confirmation.
---
It is Pedicularis scullyana
---
I hope taxonomy of Pedicularis is largely based on phyllotaxy of leaves in addition to features of flower beak. … plant has clearly whorled leaves with usually four leaves in a whorl, where as Pedicularis scullyana has alternate leaves. more so it has not been reported west of Nepal and as such not included in Pennell's Scrophulariaceae of Western Himalayas.
---
I snaped alike this image from Sangla to Rupin Pass my plant hunting tour. the stem is hollow, leaves whorled, Calyx hairy, lobes triangular, campanulate, stemen hairy, which goes to Pedicularis tenuirostris, and also reported from lahaul Spiti and Kinnaur.
---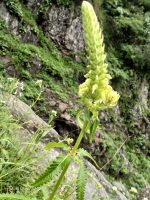 Help me to identify this Pedicularis sp.
: 1 image.
Location kashmir india
---
Pedicularis tenuirostris Benth. !
---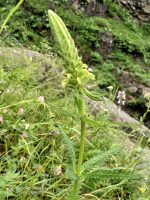 Identification required 2ouy3
: 1 image.
Location: Bandipora kashmir
---
Pedicularis tenuirostris Benth. !
---
Pedicularis…. But need to check at sps level
---
Yes, id is correct as per images at
https://efloraofindia.com/2012/06/23/pedicularis-tenuirostris/
---
References: