Commelina
indehiscens
E.Barnes,
J. Bombay Nat. Hist. Soc. 46: 74 1946
.;
.
S. India, Sri Lanka as per
POWO
;
..
---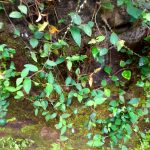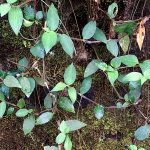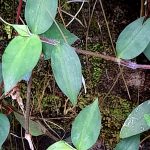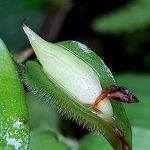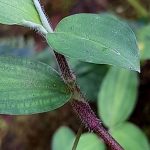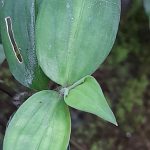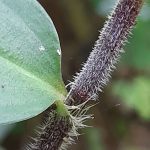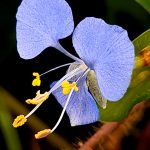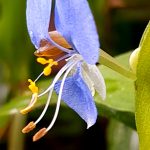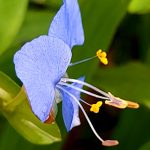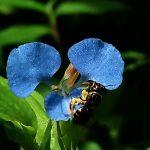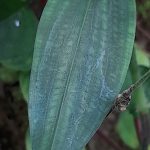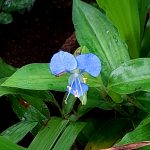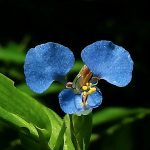 196 ID wild plant Commelina: 15 images.
Please ID wild plant,
Location: near Reserve Forest, Chathamattom, Ernakulam District, (Kochi) Kerala PIN:686671

Altitude: 1400fsl

Flower date: 17.06.2020, 10.05am

                       10.11.2021, 08.00am
Habitat: wild moisture

Plant habit: creeping/hanging, branches, slender weak fleshy stem 02.5mm diameter, annual

Height: 25cm
Leaves: alternate, ovate, apex, size:08×03cm, mucous when chewed

Flower: bracts, 3 petals, diameter:17mm, blue, non fragrant

Fruit: capsule, greenish white into brown, size:01×0.4cm
Seed:

Camera: mobile LG K10 2017 13mp and Samsung Galaxy A21s
---
Commelina benghalensis L.
---
C. benghalensis only have two petals
---
It looks different from Commelina benghalensis L.
I tried with comparative images at Commelina, but did not succeed.- from me
---
Sharing more information
Seed: brownish, single, semi ovoid, size:4×2mm
---
Please check for Commelina indehiscens E.Barnes (Commelinaceae).
Need to examine the seeds closely under a microscope to confirm this.
---
Yes, it is Commelina indehiscens, thank you very much for ID my plant,
---
.
---
Commelina for ID : Munnar : 260612 : AK-1: Picture taken on 21/10/08 in one of the Cardamom plantations at Munnar.
Commelina species id please.
---
I found one more picture. Not too good I guess. This was taken much before I joined eflora, pictures were taken very casually then. Hope it helps.
---
Without seeing spathe, couldn't say anything about species….more probably Commelina indehiscens E. Barnes. 
---
This is one more Commelina sp. seen at Eravikulam National Park, Munnar.
Family: Commelinaceae,
Requesting ID..
---
sir i think it is more similar to C. undulata?
---
Commelina diffusa ??
---
C clavata. I unable attach my pictures on any thread that I reply?
---
Thanks, … But I do not find any such problem.
---
when you do reply or reply all. a set of icons show up as seen in my screen shot included here. big A is formatting, paper clip is for attaching files like docx or pdf, cycle chain link is o add url links and
mountain sign is to include photos.

hope this helps
---
new to me too😃
---
so how have you been uploading all these cases, …? and you are welcome
---
I did not have idea about mountain icon.
---
On EF site when I reply in a thread, there is no 'attach' option, so I have to create new thread by sending email. There too efloraofindia@gmail.com bounces by saying 'address not found'. The mail gets through only on indiantreepix@googlegroups.com.
---
There is always an option to attach, as in any normal mail reply.
---
Yes …, there is an option in Gmail but not when I reply in the thread. Please look at 2screen shots.
---
Is it that you are making a reply from Google group site and not from Gmail?
---
…, that's the only way I have known to see all the posts in a line and reply them. If there is a way to do this in gmail, I am ignorant. Please send me step by step screenshots to do so.
---
Thanks, … Yes, you can change your mail option to
'All Email: send each message as it arrives' option (around 50 messages per day)
This way you will be getting all the messages in your inbox and you can reply accordingly.
However, I checked there is an attachment option even when replying from google group site. I have copied it and pasting below:
Here you get an option to Attach a file as highlighted below in bold:
---
Can't find this. Please see the screenshots.
---
---
May be … can guide us in the matter.
---
Doubtfully Commelina indehiscens!.
---