---
Cyperus imbricatus is distributed almost pantropical. In India it is known to occur in Assam, Kerala, Madhya Pradesh (Satna), Meghalaya (Khasia), Rajasthan, Tamil Nadu (Madurai, Nilgiri- Kodaikannal water falls, Pykara) and West Bengal (Cook 1996, Verma 2001).
It is a perennial herb grows in seasonally flooded areas, margins of ponds, ditches, swamps, river banks, mostly on sandy soil and muddy places (Cook 1996, Verma 2001) and also in wet lands (Bhargavan 1989).
---
Perennial, 30-60 cm. Rhizome short, ascending or horizontal, with tillers. Stem 2-3 mm diam., trigonous, smooth, lower edges obtuse. Leaves shorter than or equalling stem; sheaths to 20 cm, soft, brown or dark brown, often reddish, mouth margin slightly concave; blades to c. 40 cm long, to 5.5 mm wide, flat or folded, keeled, margins narrowly recurved, margins and keel towards apex scabrous, apex trigonous, acute, scabrous. Inflorescence 5-15 cm, a conical or rounded anthelodium; 4 or 5 lowermost bracts leaf-like, to more than 40 cm; primary branches commonly 5-8, to 80 mm, tubular prophyll c. 10 mm, bi-nerved; secondary anthelodia to c. 40 mm, of 5-8 spreading clusters of spikes; sometimes small tertiary anthelodia by 2-3 clusters of spikes, c. 7 mm; cluster of spikes 10-35 x 3-8 mm, with c. 20 to over 100 spikes closely imbricating, spirally, some at cluster base often digitately arranged; cluster rachis reddish brown, angular, narrowly winged; spikes not reflexed, 4-8 x c. 1.5 mm, glume-like bract, c. 0.8 mm, bi-nerved glume-like prophyll, c. 0.6 mm, rachis c. 0.3 mm wide, flat, quadrangular, internodes c. 0.25 mm; glumes c. 1.5 mm, cymbiform, slightly keeled, mucronate, sides obscurely nerved, reddish brown, margins widely scarious, slightly inrolled. Nut 0.6 x 0.3 mm, ellipsoid, obtusely trigonous, yellowish brown, very finely reticulate, almost smooth.
Flowering and fruiting: March-July
---
---
Id Please
Location:
Near Rajkot city, Gujarat
Habitat: sewage canal.

Height: 1 to 1.25 m.
---
… check for C. imbrecatus
---
At least 3 species looks like this. I can try if I get a close-up image of the inflorescence and the spikes.
---
Sorry, But I have only these two images of that sedge species
---
In that case pl. post the full size original pictures.
---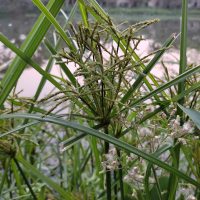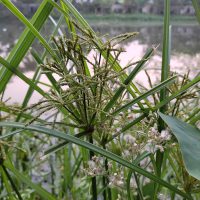 Identification help 6: 3 high res. images.
I collected this specimen near a pond yesterday. I think it's Cyperus but not sure about the species. I request you to give your kind opinion.
Habit: Erect herb, about 1-2 feet.
Date: 11.4.23

Elevation: 19m avg
---
Cyperaceae !
---
Is it Cyperus rotundus?
---
Not sure !
---
Where was it clicked?
Pl. check with the following:
https://efloraofindia.com/2013/06/27/cyperus-imbricatus/
Looks different from images at
https://efloraofindia.com/2011/02/23/cyperus-rotundus/
---
Place of collection: Karimganj
---