---
Habit-
Large shrub or small trees up to 4 m tall.
Trunk\bark-
Bark grey, smooth.
Branchlets-
Young branchlets angular, terete when mature, glabrous.
Leaves-
Leaves simple, opposite, decussate; stipules lanceolate, intrapetiolar, sheathing, caducous and leaving scar; petioles 1-1.5 cm long, planoconvex in cross section, glabrous; lamina 8-10 x 2.5-3 cm, obovate-oblanceoalte, apex acute, base attenuate, margin entire, prominently glandular between secondary nerves, glabrous beneath; midrib raised above; secondary nerves 6-9 pairs; tertiary nerves broadly reticulate.
Flowers-
Inflorescence corymbose cymes, terminal or axillary; flowers white; pedicel 0.3 cm long.
Fruit & seed-
Berry, with 2 pyrenes; seeds one per pyrene
Undergrowth in high elevation evergreen forests above 1600 m.
Endemic to the Western Ghats- Nilgiris and Palani hills.
---
I found this plant in a wet forest of Nilgiris. The forest type is locally called Shola. Is this
Rubiaceae
shrub,
Pavetta breviflora
?
The characteristic feature of this plant is the presence of dark spots in leaves
.
Locally the plant is common.
Place: Longwood Shola, Kotagiri, TN
---
I think your id is correct. Please check it with any relevant flora.
---
---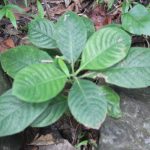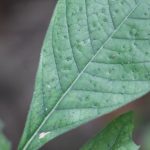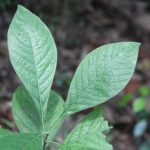 Shrub from Sadasivakona Hills
3 images.
Found in higher altitudes as shrub.
---