Argostemma
sarmentosum
Wall.,
Fl. Ind. 2: 324 1824
. ;
.
Himalaya to Bangladesh:
Bangladesh, East Himalaya, Nepal, West Himalaya
as per
POWO
;
Flowers with 4 petals…..A.sarmentosum;
flowers with five petals…… A. verticillatum
---
Flora of Chakrata 2013:: One More Stone Flower.. : Attachments (4 + 1 + 1).  5 posts by 2 authors.
This white flowered herb was also found growing on rocks in Chakrata area.. I could get this identified..
help requested..
---
Appears as a species of Agrostemma (Rubiaceae). (But where are stamens?).
---
Thanks … for the input, no exserted stamens were seen in any of the specimens observed…
and perhaps you wanted to say "
Argostemma
" instead of "
Agrostemma
"
---
Perhaps this picture can help, not a clear view but this shows exserted stamens ..
thanks … for helping, so this can be Argostemma sarmentosum
To me too it looks A.sarmentosum. Attaching an old pic taken near Jeolikot on way to Naini Tal.
---
Thanks … for confirming the identification as Argostemma sarmentosum
---
.
---
AKNOV01 Argostemma sp. for ID :  4 posts by 2 authors. No images seen now.
Found near Mussoorie, Aug 2014
---
Excellent pics …
Argostemma sarmentosum in my opinion is reported from the area, to which this strictly resembles..
I need id assistance for following species collected from Darjeeling
Locality: Pankabari Ridge, Kurseong Subdiv.
Alt.: 3000 ft
Date: 29.07.2014
Corolla white, deciduous, not scented
Status: seen only 2 populations
---
Argostemma sarmentosum Wall. (Rubiaceae) to me. Often along streams on moss covered shady slopes.
---
Many many Thanks … for your id assistance.
---
---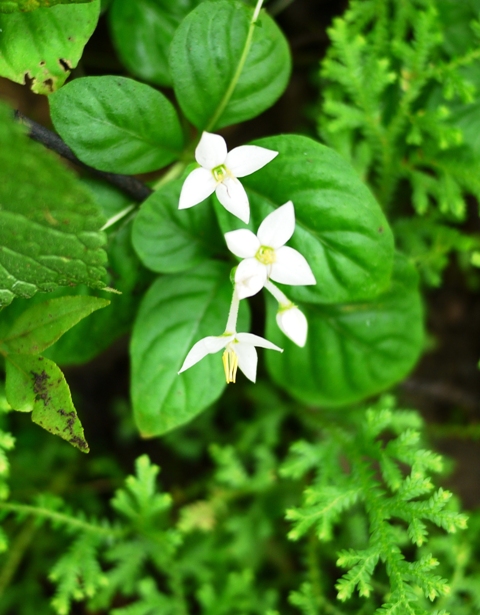 Sonerila for ID_RKC_290311:
Loc.: On way to Churdhar, Himachal Pradesh (ca 1500m)
Date: August, 2010.
---
Could this be a species of Argostemma???
---
Yes Argostemma courtallense Arn. of Rubiaceae family.
What was the altitude.
From stream side, I guess.
---
Yes … you are right
it is Argostemma courtallense
---