Bridelia verrucosa Haines, J. Bot. 59: 189, 193 1921. ;
Pakistan, N. India from Punjab & Himachal Pradesh east to Bihar & Bengal, Nepal, Sikkim, Bhutan
as per
Flora of Pakistan
;
---
---
I have seen your earlier post also through the link given by you. Thanks. Please let me know from where you have taken the photographs. Then I can arrive at a conclusion. The characters of the leaves do not agree with Bridelia retusa.  
---
I photographed it
in Konnagarh-Nabagram area
,
a rather rural area adjacent to Delhi road,
I was on my way to attend a birthday party. It was almost evening and photographed using flash.
I have noted that number of nerves doesn't agree, but thought leaves could be young in the collected specimen. My guess,
Bridelia stipularis
(L.) Blume? I'm attaching one higher resolution of leaf photograph.
Thank you very much for taking care. And please call me by  my name, I am your student here.
---
Thank you very much …
Since you have asked about Bridelia stipularis, let me clarify one point here. B. stipularis is predominantly a markedly pubescent climber (a few collectors noted it to be a small tree) with large female calyx and larger fruits on the average. There was a doubt raised recently on another post having fruiting materials of B. retusa but with large female calyx. Now, the present photographs are of dried specimens while your earlier post contained photos of fresh material. They will obviously differ in measurements. Whatever measurements we see in literature are based on dried materials, in case of flowers, soaked in water and therefore these measurements are bound to be less that what we actually see and measure in field.
Your photographs do not show any climbing habit and villous parts and so we can rule out B. stipularis.  If you do not mind, I would rather like to assign the name Bridelia verrucosa Haines which seems to be more probable.
Distribution is as follows:


India: Uttarakhand, Jharkhand, West Bengal, Sikkim and Arunachal Pradesh; Pakistan, Nepal and Bhutan.
---
Thank you very much Sir, my guess was simply wild (as you noted, some wrote the taxon as small tree). I wish I could see it one more time. If it still survives I would try to get flowers as well, should be around Nov.-Dec.
---
---
Found this
small tree in a private property beside a road.
Species : UNKNOWN
H & H :
about 15 to 20ft, leaves alternate, sepals possibly ten
Date : 7/1/13
Place :
Hooghly
---
This is a species of
Bridelia
possibly
B.spinosa
. My photographs for comparison are available at
this link
---
Thank you very much …, lovely pictures of birds too. And, would you believe that while i was returning today i was thinking this tree is going to be identified by …, i am telling pure truth!
---
Bridelia verrucosa Haines as per another thread.
---
Bridellia verrucosa Haines, family Phyllanthaceae.
---
Bridelia verrucosa
Haines is a
less common small tree in lower and mid hills
of Uttarakhand
.
It is much lopped for fodder. I remember a small tree just at the gate of my home which never produced flowers due to regular lopping of new branches (yes, by me !) in my school days.

My mother used to call it "
GHAULA
" in Garhwali dialect.
---
The genus is indeed Bridelia but in absence of flowers or fruits I am unable to confirm the identity of the species. However, B. verrucosa is known to occur in Uttarakhand.
---
---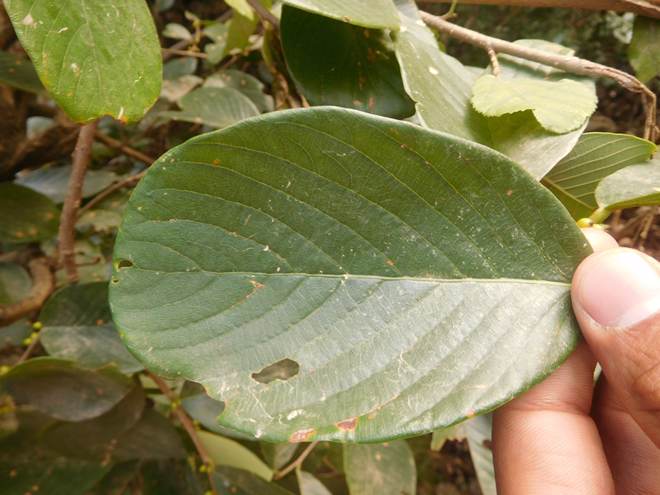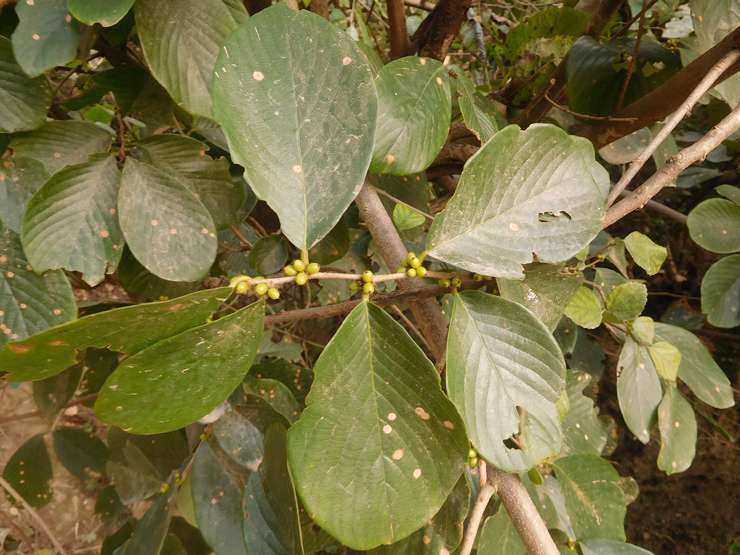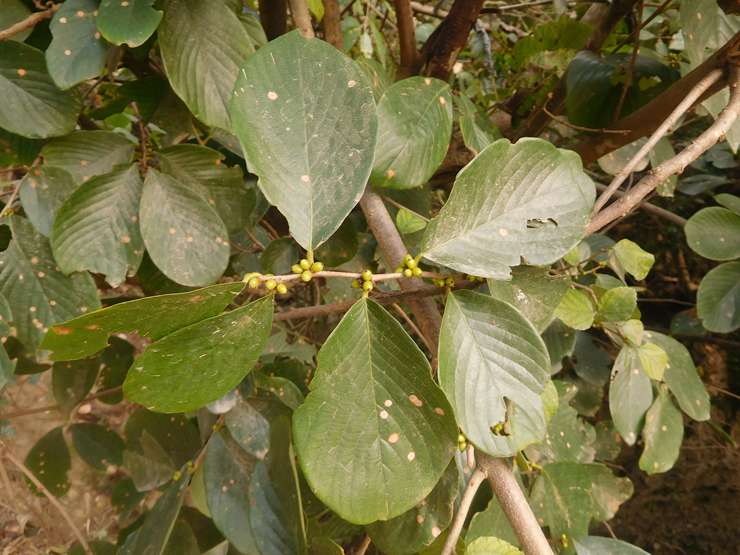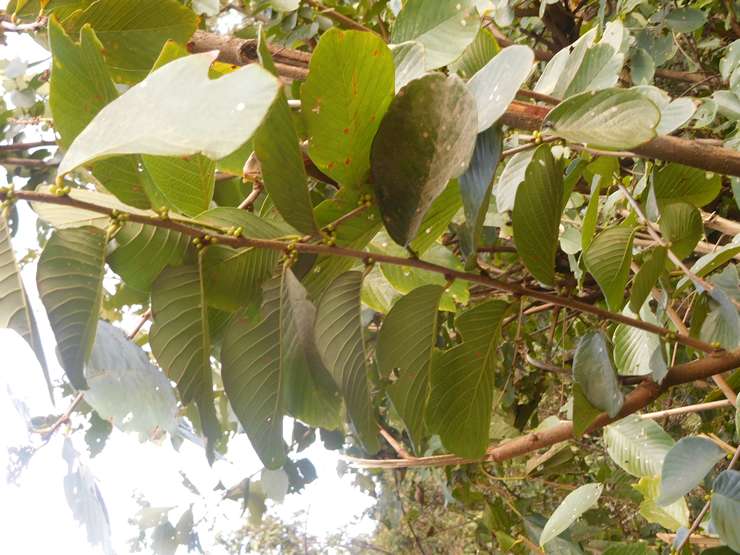 PM1 15-12-2018 Id requested.Is it Bridelia sp.?? : 8 posts by 4 authors. Attachments (4)
presenting few images of a
large shrub
which looks like some
Bridelia
sp.
found growing on a small hilltop
locality-  Dehradun (en route Santla mata mandir ~1000m asl)
Date-13-02-2018
---
Most probably 
Bridelia ferruginea,
an important  medicinal plant.
---
We need further details for evaluating whether this is distinct from Bridelia montana.
---
A correction: This is Bridelia verrucosa Haines.
---
shape of leaves is exactly like B.verrucosa but fruits are matching with B.ferruginea
Sir please clarify
---
In that case, I admit that I have no knowledge of the occurrence of that African species in India in wild conditions.
---
---
---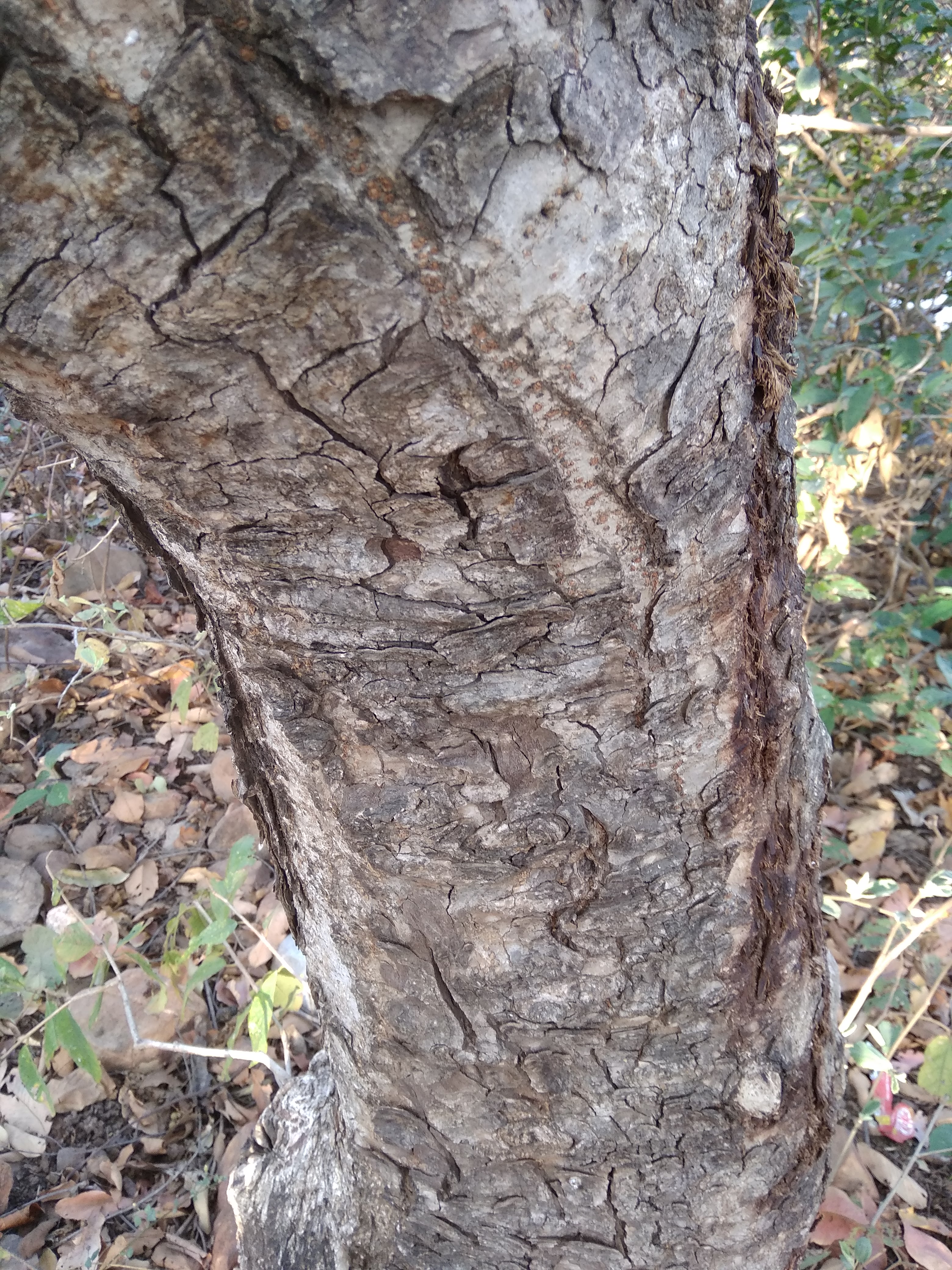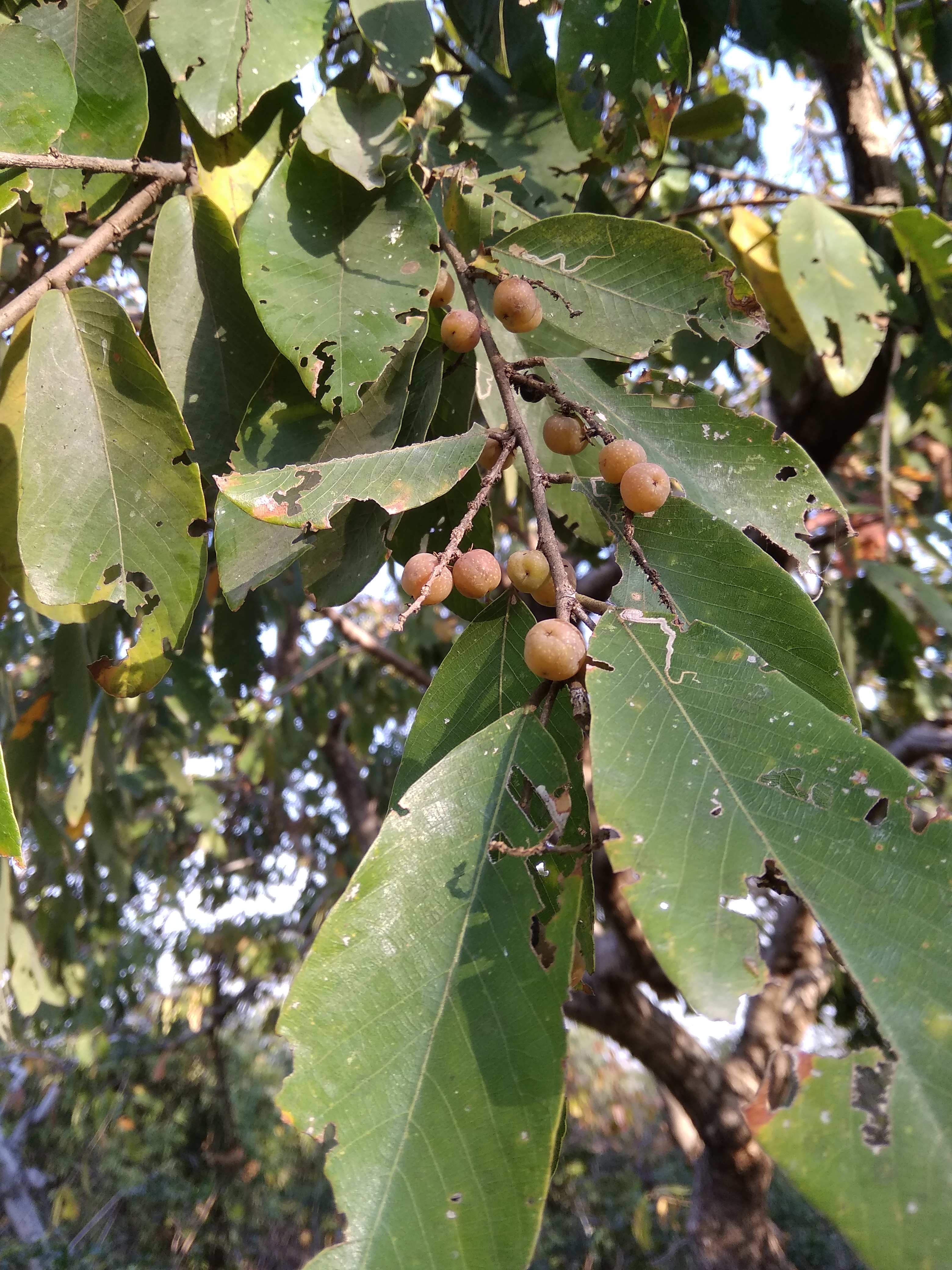 Bridelia sp ID suggestion : 4 posts by 3 authors. Attachments (3)
Please suggest the species name.
Bridelia sp?
Location- Rajgir hills (Bihar)
Date- 9 March 2019
---
This is similar to Bridelia verrucosa, fairly common on the hilly tracts of Bihar and Jharkhand.
---
Date: February, 2011
Habit:
Climber
---
One of my friend forward your mail for the identification of a climber from Bihar. See the attachment. The photograph looks like Briedelia stipularis (L.) Blume. Kindly ignore this mail if you already substantiate the correct identity of this species
---
Illustration provided in Fl. Malaysia and Fl. China matches well with Bridelia stipularis.
---
I think this is more closer to images at Bridelia verrucosa Haines rather than those at Bridelia stipularis (L.) Blume
---
---
Unknown tree from Kamrup district, Assam: 5 images.
Attached images are unknown tree sp.. Please ID for it.
Date : 21.12.2012
Location: Kamrup district
Family : Unknown
Genus & species : Unknown
Habitat: Grows wild on. hilly slopes
Habit : Small tree
Flower : Not seen
Fruits : Seen
---
This could be a species of Bridelia possibly B.spinosa.
---
---
Thanks, …, for id as Bridelia stipularis
To me also appears close as per images and details herein.
---
Typical Bridelia verrucosa.
---