In the first year after germination the plant produces a broad rosette of leaves. In the second and subsequent years more or less woody flowering stalks are produced clothed in rough leaves. The flower head is large and covered with blue flowers having red
stamens
. It is much visited by bees and butterflies for its nectar.

[1]
Echium candicans is cultivated in the
horticulture
trade and widely available throughout the world as an
ornamental plant
for traditional and
drought tolerant
water conserving gardens. It is particularly suitable for coastal planting, and is a popular ornamental in coastal
California
. With a minimum temperature requirement of 5–7 °C (41–45 °F), in frost-prone areas it needs some winter protection.
---
---
Echium candicans L.f. Commonly known as Pride of Madeira
---
Thank you once again … for ID….
Wikipedia says that Echium candicans has red stamens….
I also have some additional photos of similar plants. Are these Echium candicans as well?

---
.
---
---
I hope Echium fastuosum
---
I must have searched a lot for this id, had no lead.
Thanks for solving it so quickly.
---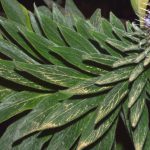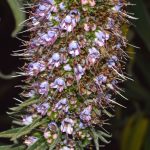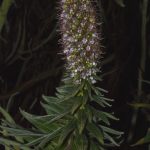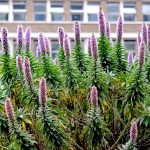 SK 3381 31 March 2022
: 4 very high res. images.
Location: National History Museum, London 
Date: 27 March 2022

Habit : Cultivated 
---
Echium sp.
Not sure which one.
Incredible to see it in flower in March in London UK!
---
I hope E. candicans
---
.
---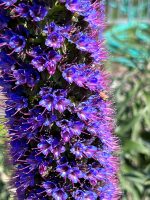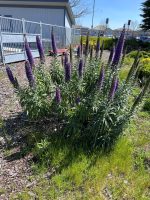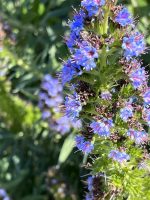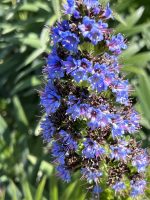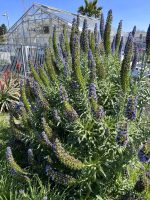 Echium candicans from California-31032023-1: 5 very high res. images.
Echium candicans Linn.f., a shrubby species with up to 50 cm terminal spikes of purple flowers. Photographed from Fremont, California, March 25, 2023.
---
Yes, appears close to images at
https://efloraofindia.com/2014/03/13/echium-candicans/
---