---
Habit- Small trees up to 5 m tall.
Branchlets- Branchlets terete, glabrous.
Leaves- Leaves simple, opposite, decussate; stipules broadly ovate with long subulate apex, interpetiolar, persistent; petiole 0.2-0.5 cm long, planoconvex in cross section, glabrous; lamina 7-16 x 2.5-3.5 cm, lanceolate to linear-lanceolate, apex narrowly acuminate, base obtuse to acute, margin entire, chartaceous, glabrous; midrib raised above; secondary nerves 12-22 pairs, nearly right angle to the midrib; tertiary nerves slender reticulo-percurrent.
Flowers- Inflorescence terminal corymbs, lax; flowers white; pedicel to 0.7 cm long.
Fruit& seed- Berry, nearly globose; seeds 2.
Undergrowth in evergreen to semi-evergreen forests up to 600 m.
Endemic to the southern Western Ghats- South Sahyadri and north Malabar.
Attributions- B. R. Ramesh, N. Ayyappan, Pierre Grard, Juliana Prosperi, S. Aravajy, Jean Pierre Pascal, The Biotik Team, French Institute of Pondicherry)
.
---
Chimmony Wildlife Sanctuary
9th November 2014
A shrub growing upto 5 feet tall.
Listed as vulnerable in the IUCN red list.
---
Nice pictures of Ixora malabarica
---
Fruits are at this post.
---
.
---
Flowers of this species can be found at this post.
Family: Rubiaceae
Date: January 2015
Place: Aralam WLS, Kerala
Habit: Shrub
---
interesting find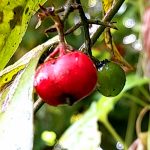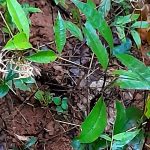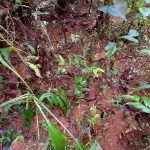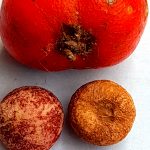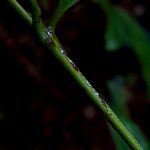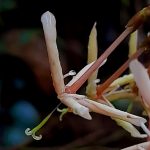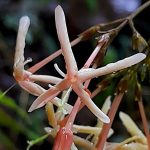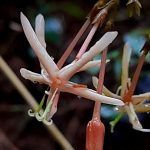 134 ID wild plant
:
Please ID wild plant,
Location:

near Reserve Forest,

Chathamattom, Ernakulam District, (Kochi) Kerala PIN:686671

Altitude: 1400fsl

Flower date: 18.08.2021, 02.40pm
Habitat: wild moisture

Plant habit: under shrub, erect, branches, small hard stem, perennial

Height: 04 feet
Leaves: opposite, oblong, apex, size:08×03cm

Flower: racemose, 4 petals, diameter:20mm, light pink, non fragrant

Fruit: ovate, green into red, diameter:9mm, edible, sweet

Seed: brown, 2 nos., semi globular, diameter:6mm
Camera: mobile Samsung Galaxy A21s
---
As per flowering look like Rubiaceae member.
---
Ixora sp.,
---
Yes, it is very similar to I. malabarica, but reddish, thank you very much for ID suggestion, very rare plant.
---
I also agree with this plant being Ixora malabarica (Dennst.) Mabb., as per images and details herein.
---