---
Chutro, Rasanjan (Nep); marpyashi (Newa); Daruharidra, Darbi (Sans)
Shrubberies, grassy and rocky slopes up to 2500 metres[51]. Found in heavy shade, on north-facing slopes[67] and on open hillsides in the drier areas[146].
E. Asia – Himalayas (Nepal)
Berberis asiatica is an evergreen Shrub growing to 3.5 m (11ft 6in) at a medium rate.
It is hardy to zone (UK) 8 and is not frost tender. It is in leaf 12-Jan It is in flower in May. The flowers are hermaphrodite (have both male and female organs) and are pollinated by Insects, self.The plant is self-fertile 
Fruit – raw or dried and used like raisins[2, 3, 51, 105, 158, 183]. This species is said to make the best Indian raisins[183]. Fully ripe fruits are fairly juicy with a pleasantly acid flavour, though there are rather a lot of seeds[K]. The fruit is abundantly produced in Britain[2]. The fruit is about 8mm long[200]. 
The roots are used in treating ulcers, urethral discharges, ophthalmia, jaundice, fevers etc[240]. The roots contain 2.1% berberine, the stems 1.3%[240]. The bark and wood are crushed in Nepal then boiled in water, strained and the liquid evaporated until a viscous mass is obtained. This is antibacterial, laxative and tonic[272]. It is taken internally to treat fevers and is used externally to treat conjuctivitis and other inflammations of the eyes[272]. Tender leaf buds are chewed and held against affected teeth for 15 minutes to treat dental caries[272]. The fruit is cooling and laxative[272]. Berberine, universally present in rhizomes of Berberis species, has marked antibacterial effects. Since it is not appreciably absorbed by the body, it is used orally in the treatment of various enteric infections, especially bacterial dysentery[218]. It should not be used with Glycyrrhiza species (Liquorice) because this nullifies the effects of the berberine[218]. Berberine has also shown antitumour activity[218].
Location
: Dhulikhel, Nepal 
Berberis aristata DC.  ??
---
Thanks for sharing images. It looks like Berberis asiatica Roxb. ex DC. to me.  
---
Location: Nagarkot, Nepal
Date: 20 June 2017 
Habit  : Wild 
---
Berberis asiatica
Roxb. ex DC.
---
Attachments
(8)
– around 600 kb each.
---
Images by Gurcharan Singh (Id by Bhaskar Adhikari) (Inserted by J.M.Garg) (For more images & complete details, click on the links)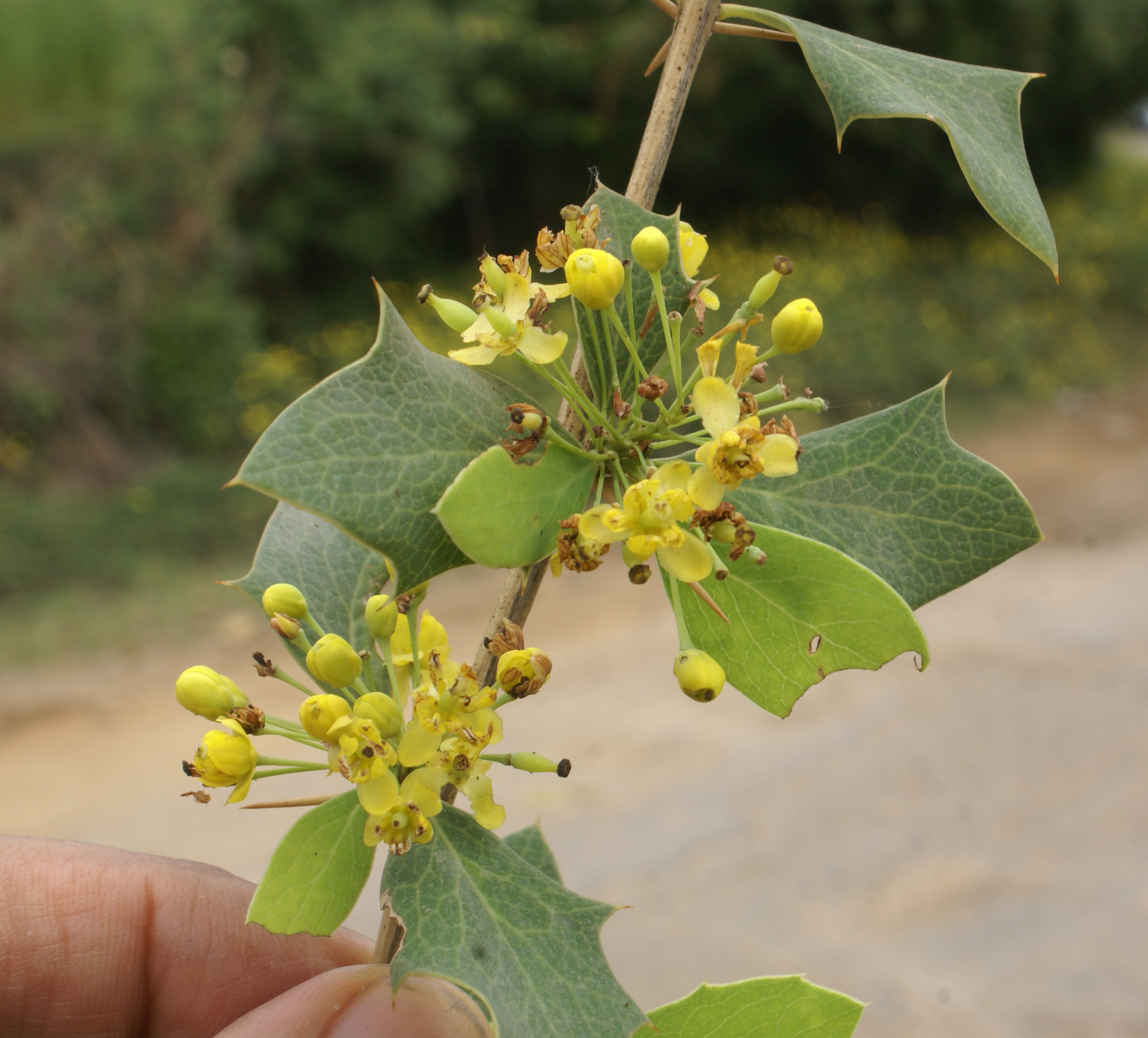 Menispermaceae, Berberidaceae, Nymphaeaceae and Nelumbonaceae Fortnight: Berberidaceae- Berberis chitria from Baijnath, Uttarakhand0GSOCT01 : 5 posts by 3 authors.
Berberis chitria
 Lindl. in Bot. Reg. 9, t.729. 1823. 
syn: B. aristata auct. (non DC.); Collett, Fl. Simlensis
Photographed from Baijnath, Uttarakhand, pl validate.
---
These are Berberis asiatica Roxb. ex DC.
---
Acacia plant seen beside Budhi Gandaki near Rana (north of Deng) at about 1860m (6102ft), Nepal-2 – 22032017. The leaves are quite similar to
Acacia littorea
which I saw in Australia but the flowers are very different.  Any help in identifying the plant would be very welcome.
---
New to me.  Never seen such flowers in Acacia!
---
… is it some Berberis ?
---
Berberis Species from me too.
---
I agree it is a Berberis. Is it Berberis asiatica? I note that there was a post a couple of years ago with images of a similar plant:
---