Memecylon
randerianum
S.M.Almeida & M.R.Almeida,
J. Bombay Nat. Hist. Soc. 85(3): 521 , nom. nov. 1989 [1988 publ. 1989]
.;
.
---
Bushy shrubs. Leaves 5-12 x 1.5-4 cm, ovate, apex gradually acute, cordate at base, sessile; nerves obscure. Flowers fascicled in very dense many-flowered cymes; peduncles 1-2 mm long; pedicels short, 1-2 mm long. Calyx tube 1-2 mm long, campanulate, truncate at apex. Petals 1-2 mm long, obovate, blue. Style subulate, c. 3 mm long. Berry 4-5 mm across, globose.
Flowering and fruiting: February-May
Evergreen and semi-evergreen forests, and also in sacred groves
Southern Western Ghats (Endemic)
(Attributions- Dr. N Sasidharan (Dr. B P Pal Fellow), Kerala Forest Research Institute, Peechi
Clicked at Amruth Herbal Garden, FRLHT, Bangalore
May 2014
This Memecylon sp. was flowering in a pot. Had grown to about 3 feet in height.
---
I assume the plant was collected from some place in the western ghats and then propagated in this garden. Can it be Memecylon randeriana? http://biotik.org/india/species/m/memerand/memerand_en.html
---
very nice. cant help with differential but appreciate your pictures
---
Thank you so much ma'am. This was from before I started going to forests regularly. Hence was pleasantly surprised to find this beauty of a plant flowering in a nursery.
---
M. randerianum Almeda
---
Id  requested for the following attachment..
Date/Time-: 12/05/11   –    08:30
Location- Place, Altitude –
Kaiga , Uttar Kannada, Karnataka, 380 mtrs
Habitat- Garden/ Urban/ Wild/ Type-  
wild
Plant Habit- Tree/ Shrub/ Climber/ Herb-
tree
Height/Length-
2mtr
---
looking like Cryptolepis
---
This Could be Memecylon sp.
---
… unless … is confident about the plant growing into a tree, my guess: this could be some Asclepiad climber.
---
My guess is that this could be a species of either Ixora or Memecylon.
---
Appears close to images at Memecylon depressum Benth.
---
M. randerianum
---
.
---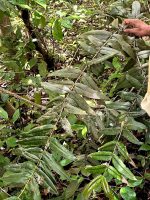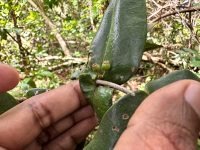 ID KNR 03/01/08/23: 2 high res. images.
Please identify this Memecylon species from Kannur District of Kerala. 2/8/23
---
mostly it is
Memecylon randerianum
but when checked in eflora of India it is completely different with the leaf arrangement in the uploads
---
Memecylon
is one of the large genus with about 400 species with complexity.. hence experience is required to deal
---
M.randerianum almada & almeda
---