Delphinium kamaonense
Huth,
Bull. Herb. Boissier 1: 333 1893
. (syn:
Delphinium grandiflorum
var.
kamaonense
Huth ex Brühl) ?;
.
W. & Central Himalaya to W. & Central China:
China North-Central, China South-Central,
Nepal,
Qinghai, Tibet,
West Himalaya as per
POWO
;
.
China (SW-Gansu, S-Qinghai, W-Sichuan), S-Tibet, India (Kumaon), Nepal as per
CoL
;
.
---
---
Thanks, …  Do you have any habit image etc.
---
Some leaves obscurely visible in background indicate possibility of D.denudatum. eFI page on D.denudatum.
---
No, I do not consider the images taken near Guni camp are of D.denudatum.
We are at a considerable disadvantage not being able to properly see the stem or basal leaves and with Delphiniums having a side view of the flowers to show the spur better helps.
May I repeat a plea.  Please take many more than 1-3 images of just the flowers and post more. Foliage (both upper & basal leaves, ideally showing lower surface as well), habit, habitat are really important. Without such images one is left trying to work out the picture of a jigsaw with lots of missing pieces.

It was the standard thing to just take one or two photos focussing on the flowers only in the past (which is what I did when using slides and the requirement of changing lenses and a tripod) but modestly-priced second-hand compact digital cameras are now readily available with wonderful lenses for good close-ups and once into a routine it does not take long to take the requisite images.  Such a shame if missing images make it impossible for us to be sure which species a specimen belongs to or requires vastly more time and effort on our part.  Never easy to return to the site especially when trekking high in the mountains.
Nevertheless, I currently think that the best bet would be
D.kamaonense
–
recorded from Kumaon to Central Nepal @ 3000-4300m
. 'Flowers of the Himalaya' say common on open slopes in Nepal, so quite possible from this location.
Perhaps … has come across
D.kamaonense
in Uttarakhand?
Any other suggestions?
---
Both these species
D. denudatum
and
D. kamaonense
have finely dissected leaves, though the images lack any leaves and stem part.
The possibility suggested by Chadwell Ji may be more closer as the altitude of collection of this plant is mentioned around 3000m which is well within the altitudinal distribution of
D.kamaonense
(3000-4600m in Kumaon, Uttarakhand). Moreover, this species is reported from Pithoragarh District of Uttarakhand (Pangtey et al. 1988. Contribution to the flora of Pithoragarh district (Kumaun Himalaya) which is adjacent to Nepal.
D.denudatum has an overlapping range of altitudinal distribution (1800-4000m in W.Himalaya) and known to occur in Pithoragarh district (Pangtey et al. 1988).

I have seen only
D. denudatum
in nature and it often occur at around 1000-2200m throughout Uttarakhand.

The Kailash-Mansarovar track follows the Kali river valley mainly and I have gone only up to Malipa (2300m); Gunji is far ahead of this place.
---
Thanks for your comments and observations.  It is such an asset to this group to have a keen and knowledgeable observer active in Uttarakhund – which I have only visited briefly, on one occasion and have few references about.  Sorry, I am more familiar with Uttaranachal and Uttar Pradesh plus Kumaon (and Garwhal from the British days).  There are many species found in Nepal also in this region indeed this is the NW limit of the distribution of more typically 'Eastern Himalayan' species and … has been able to located specimens not recorded from the region previously.  The only way our knowledge of the region will increase is with observant, active field-botanists undertaking extensive surveys.  You are setting an example for others to follow.
I personally consider a vegetational division into 'Western' and 'Eastern' Himalaya as too simplistic (though there will never be perfect separations and always some overlap).  But I feel plant distribution-wise, better to have 'Western' (more accurately North-Western Himalaya) covering 'Kashmir' sensu lato and Himchal Pradesh then 'Central Himalaya' covering Uttarakhund plus West & Central Nepal, then 'Eastern Himalaya' covering Eastern Nepal, Sikkim & Bhutan.   I do not consider the mountains of SW China to form part of the Himalaya proper. Polunin & Stainton within 'Flowers of the Himalaya' considered that the Himalaya stretched from Nanga Parbat on the Indus eastwards to Namcha Barwa on the bend of the Tsangpo in S-E Tibet for 2250km. Whereas their book covered only the part of the range which lies within Nepal and the Indian Western Himalaya, a distance of 1450km.  The Nepal-Sikkim border was chosen as the eastern boundary of their area with the India-Pakistan border as the western boundary.
Do not know the flora of Arunachal sufficiently well to comment where this should be placed.
I do not agree in the 'Sino-Japanese' Phytogeographic Region from Japan, Korea, south west China westward through what was upper Assam, Tiawan, Bhutan, west Nepa, Himachal Pradesh and Kashmir.  The suggestion that there are many Sino-Japanese elements found in the 'Himalayan' zone within Pakistan e.g. is false….
Returning to the Delphinium photographed at Gunji.  I do have some images (cannot locate them at present) taken in the Upper Kali
Gandaki which from my memory looked similar to these.  Will be interesting to compare them.
I have a copy of 'Flora of Mustang, Nepal' Edited by Ohba, Ioakawa & Sharma (2008) – which I have found far from exhaustive which gives many specimens of D.kamaonense (plus a few of the similar D.caeruleum) from moist grassy slopes & shrubberies.  D.denudatum is not recorded from this region.
Strangely, D.denudatum is not included in 'Enumeration of the Flowering Plants of Nepal' yet its distribution in 'Flowers of the Himalaya' is given into Central Nepal (from 1500-2700m, so Gunji is beyond this altitude-wise) on grassy banks & margins of fields.  Strange, as the Enumeration formed the main basis (along with the reference collections of pressed specimens in the herbarium of the Natural History Museum, London) of Polunin & Stainton's work.
One can find images of D.kamaonense on the internet but these were taken in China by Professor Boufford (of Harvard) and his colleagues.  Whilst one can have a high degree of confidence in the reliability of these, as accompanying herbarium specimens would have been taken and subsequently 'determined' by comparison with other reference pressed specimens (allowing examination close-up of floral and foliage parts which the two photos from Gunji do not), species which occur over a wide geographic range will inevitably vary (whether or not such variation is recognised at varietal or subspecies level or when a genus is revised sometimes as separate species) so must be examined with caution.
---
.
---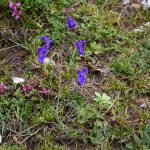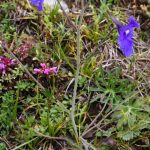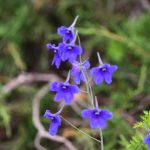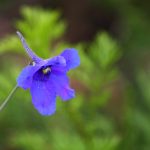 Swamy/New series/ID/62 – Delphinium species: 4 images.
Please ID the plant photographs received from Chennai for ID. Photographed during a trek in the Himalayas. The possible ID is Delphinium scabrifolia. Please confirm the ID or otherwise.
---
Delphinium kohatense (Brühl) Munz ???
---
My mistake.
Delphinium kamaonense Huth ??
---