Campanula alsinoides Hook.f. & Thomson, J. Proc. Linn. Soc., Bot. 2: 24 1858.;
Pakistan to W. Himalaya
as per
WCSP
;
---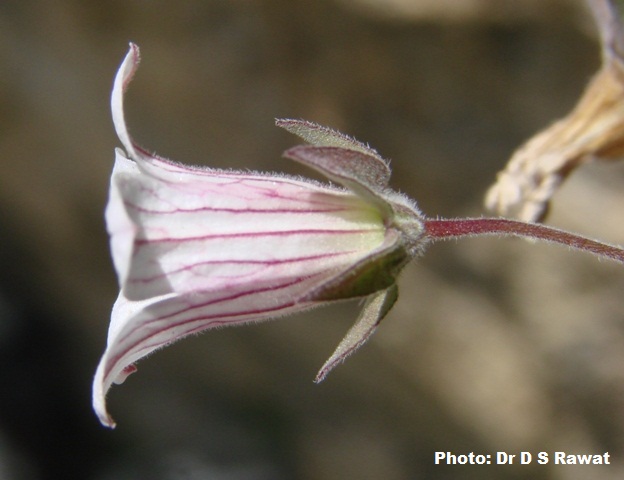 Campanual argyritricha from Uttarakhand
: 4 posts by 3 authors. Attachments
(2)

Campanula argyrotricha
Wall. ex A.DC. (
Campanulaceae
) is a frequent lithophytic herb in sub alpine and alpine zones of Uttarakhand. It grows in dry rock crevices producing usually bluish flowers.

Here photographed
in Upper Alaknanda valley on way to Vasudhara in September.
---
See my recent postings about the difficulties distinguishing between small-flowered Campanulas in the Himalaya. These images do not match well with the two further postings from Uttarakhand under C.argyrotricha.
---
Correctly pointed out by …
It is far more closer to Campanula alsinoides Hook.f. et Thomson based on the character- 'flowers white of pale pinkish with purple or brown veins' as mentioned by Pusalkar & Singh (2012) in Flora of Gangotri National Park and by Haridasan & Mukerjee (1996) in Fascicles of Flora of India- Campanulaceae.
This species is said to be having cleistogamous and chasmogamous flowers and the flowers visible here are chasmogamous.
C.argyrotricha and C. alsinoides are differentiated by Pusalkar and Singh (2012) as:
Leaves with patent pubescence, showy flowers white or pale pinkish………… C. alsinoides
Leaves with long needle like hairs, showy flowers violet-blue or lilac………….. C. argyrotricha
Flora of Pakistan included this species by adopting original description of Hooker & Thomson (1858) which was based on specimens carrying only cleistogamous flowers. Later Pusalkar & Singh (2012) have clearly mentioned that the species has dimorphic flowers and therefore provided detailed amended description.
This species is distributed in J&K, Uttarakhand and Pakistan.
One good image is available at- http://ngoosen.fotki.com/campanulaceae-/campanula/campanula-alsinoides.html
and http://www.franz-alpines.org/g_campanula_alsinoides.html
C. alsinoides is new for efi.
---
Further to my comments about the difficulties distinguishing between the smaller- flowered Campanulas in the Himalaya, I have just noticed the records for Campanula made during a botanical tour to Himachal Pradesh in 1986 – this covered the upper Kulu Valley (Rohtang area) and Lahaul as far as Patseo.
They noted
Campanula alsinoides
from 4 locations:
Darcha and a valley East of Darcha, Kyelong & Patseo. 
Assuming they correctly identified this, it contradicts/ illustrates the strictly limited field-work undertaken for 'Flora of Lahaul-Spiti'.
C.pallida was also recorded from Kyelong area.
I recollect seeing what I took to be Campanula pallida var. tibetica at the base of large boulders near to Koksar, Lahaul in the early 1990s.
They did not come across
Campanula cana
.
No mention of Campanula argyrotricha
. 
---
I shall post more about various Himalayan Campanulas when time permits. 
---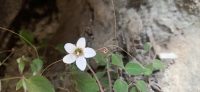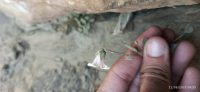 Identify Pls : Campanula sp.
: 2 high res. images.
---
Please always mention place of photography and altitude, preferable also date.
---
Place of Photography:- Amarnath Trek, Kashmir
Date – 22 August 2023
(Also mentioned in Captured photo)
I have no idea about Altitude.
---
Appears somewhat close to images at
https://efloraofindia.com/2022/07/03/campanula-cana/
So pl. check other related species from the area.
Do the leaves seen in the 2nd image belong to this plant?
---
Its looks like Campanula alsinoides because of its pinkish strips on the corolla.
so I consider it Campanula alsinoides Hook f & Thom.
---