Eurya cerasifolia (D.Don) Kobuski, Ann. Missouri Bot. Gard. 25: 3226 1938 publ. 1937. (syn: Diospyros cerasifolia D. Don; Eurya acuminata Wall.; Eurya acuminata var. wallichiana Dyer; Eurya symplocina Bl.; Eurya wallichiana Planch. ex Dyer);
India (West Bengal, Assam, Arunachal Pradesh, Nagaland, Manipur, Meghalaya), Sikkim, Nepal, Bhutan

, Myanmar [Burma] (Chin, Kachin, Mon, Sagaing), Thailand, Vietnam
as per
Catalogue of Life;
Leaves entire or serrulate only at apex as per

Forest Plants of Eastern India

By Amal Bhusan Chaudhuri (1993- Description & Keys- Eurya acuminata, Eurya cavinervis, Eurya cerasifolia);
---
Evergreen shrubs or small trees, about 2-8 m tall. Bark grayish brown, sparsely setose, striate, branchlets and apical buds, appressed pubescent, becoming glabrous later. Leaves simple, alternate, about 4.5-12 x 2-4.5 cm across, lanceolate-elliptic to ovate-oblong, base acute to cuneate, margins entire or serrate at two-third towards the apex, apex deeply acute to obtusely acuminate, coriaceous, chartaceous, dark green with blotches, glabrous above, paler sparsely pubescent on the midrib and lateral veins beneath, midrib slightly impressed above and prominent beneath, lateral veins about 15-20 on the either side of the midrib, petiole pubescent, about 2-6 mm across, exstipulate. Inflorescence axillary, 4-5 in fascicles. Flowers unisexual, actinomorphic, white or pale yellow, about 4 mm across, pedicel pubescent, about 2-4 mm long, bracteoles 3, broadly elliptic, apex obtuse, glabrous inside, silky outside, sepals 5, subequal, imbricate, ovate-orbicular, base free or slightly connate, appressed pubescent outside, persistent, about 2.5-3.5 x 2-2.5 mm across, petals 5, imbricate, obovate-elliptic, base connate, white, pale yellow base connate, about 4.5-5 x 2.5-3 mm long. Male flowers: Stamens 13-17 in 1 series, unequal, base free or connate, sometimes adnate to petals, filaments filiform, anthers dorsifixed, 2 loculed, about 1mm long, shortly apiculate, pistillode glabrous. Female flowers: Bracteoles, sepals and petals slightly smaller than male flowers, rarely staminodes present, ovary superior, globose, about 4 mm long, 3 locular, axile placentation, ovules many in each locule, style 3, stigma 3 fid. Fruit berry, globose-ovoid, about 4-5 mm across, bluish black when ripe, usually indehiscent with persistent style. Seeds numerous, about 1 mm across, pitted, testa shiny, tubercled, reticulate, fleshy endosperm, dark brown.
Temperate and subtropical forests, altitude 1500-2200 m.
Asia: Bhutan, China, India: Arunachal Pradesh, Assam, Manipur, Meghalaya, Nagaland, Sikkim, West Bengal, Myanmar, Nepal
(Attributions- Ganeshaiah, K. N., UAS, Bangalore, India. Kailash, B. R., ATREE, Bangalore, India. Royal Norwegian Embassy grants. Indian Bioresource Information Network (IBIN), Department of Biotechnology, New Delhi from
India Biodiversity Portal
)
.
---
Location
:  Sakiyong Khasmahal, 

Pedong Reshi Rd,

 India
Maesa sp.?? I could not get ID !
---
I think you have posted similar plant some time back.
---
Yes, … I checked but could not conclude.
---
I think Theaceae member.
---
Thank you … Actually I was suggesting Eurya sp. but by mistake typed Maesa.
---
The fruits have persistent calyces and stigmas… i don't remember seeing Maesa with these…
But can't think of a correct match..
---
Pl. check with species available at
---
This I did … Leaf margin is entire. Others sp i noticed are serrated.
---
Eurya cerasifolia

(D. Don) Kobuski 
Leaves entire to mildly serrate towards apices.
---
Eurya cerasifolia (D. Don) Kobuski
Nepali Names: भाले झिनु Bhaale Jhinu/ ठुलो झिंगाने  Thulo Jhingaane
---
---
Date: 20 June 2018

Habit :  Wild
SK196NOV14-2016:ID : 13 posts by 3 authors. Attachments (10)
Location: Champadevi , Nepal
---
Once again, no ideas. A majority of the sub-tropical flora at such relatively low elevations in Nepal is unknown to me. At times I struggle even to suggest a family, let alone genus.
---
Any idea about the family ?
---
This is member of Theaceae, and should be a Eurya sp., not sure but could be Eurya acuminata.
---
---
Looks different from images at
Eurya acuminata
Pl. check or other species of
Eurya
.
---
Yes …, both same plant.
Eurya cerasifolia (D. Don) Kobuski
Nepali Names : भाले झिनु Bhaale Jhinu / झिगाने Jhigaane / ठुलो झिगाने Thulo Jhigaane
---
---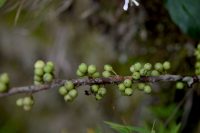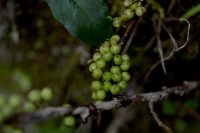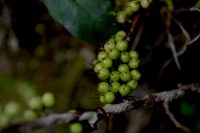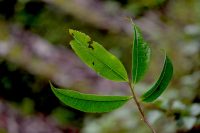 Eurya acuminata DC.: 4 images.
Location: Nagarkot, Bhaktapur, Nepal
Date: 15 August 2015

Habit : Wild
---
.
---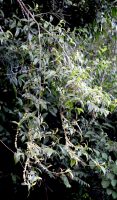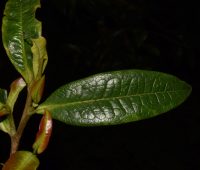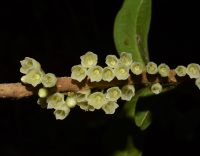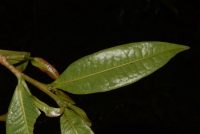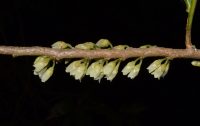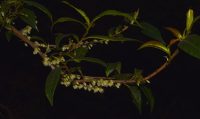 Eurya cerasifolia (D. Don) Kobuski: 7 very high res. images.
Location: Chandragiri, Kathmandu, Nepal
Date: 31 October 2023
Altitude : 1768m.