S-Libya (Tibesti), Egypt (SE-Egypt), Oman (Dhofar), Saudi Arabia (C-Saudi Arabia, Hejaz, Asir), Yemen (Aden Desert, coastal Hadhramaut, Tihama, W-Yemen), Pakistan (Karachi, Sind, Baluchistan, Pakistani Punjab), India (NW-India, Upper Gangetic plains), Ethiopia, Uganda, Kenya, Tanzania, Sudan, South Sudan, Ethiopia, Eritrea, Djibouti, Somalia, Chad, Zambia
as per
Catalogue of Life
;
ID request..from Pakistan : 7 posts by 4 authors. Attachments (3)- one of 3 Mb. others of around 500 kb each.
Please identify the plant. picture was captured on feb, 2017 at a scrub forest located in Punjab, Pakistan.
---
It is a Barleria species from Acanthaceae, can be confirmed by referring eflora of Pakistan
---
… or chance of any Lepidagathis ?
---
Thank you Sir. Yes it resembles. Can it be Berleria acanthoides?
---
Yes, …,
To me also appear close to images/ high resolution specimens of Barleria acanthoides at
---
.
---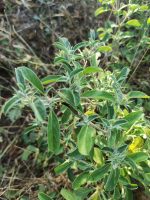 kata sheriyo: 1 image.
location kutch gujarat
date 7/10/2022
local name kata sheriyo
---
Barleria prionitis L. ??
---
I think different from images at
https://efloraofindia.com/2011/02/09/barleria-prionitis/
---
I thought … is correct, For Barleria acanthoides.
---
---