Lysimachia chenopodioides Watt ex Hook. fil. (syn: Lysimachia glandulosa Klatt (ambiguous synonym); Lysimachia knuthiana Balakr.);
SE-Tibet, China (Yunnan),

Bhutan, India

, Myanmar [Burma] (Kachin, Sagaing), Nepal,

Pakistan (Hazara, Murree),

Jammu & Kashmir (Poonch, Kashmir, Jammu)
as per
Catalogue of Life

;
---
Stems 10-40cm, usually much branched from base, glabrous or puberulous. Leaves alternate, sometimes almost opposite, elliptic-lanceolate, 1-3 x 0.4-1cm, acuminate, minutely gland-dotted, base attenuate on winged petiole, 10-15mm. Flowers borne singly in leaf axils, sessile, or pedicels up to 4 (occasionally 7)mm, forming a loose leafy raceme along stems. Calyx c 4mm, teeth linear-lanceolate, acuminate, with reddish glandular streaks. Corolla pale pink or white, 4-4.5mm long; lobes spathulate, each with 3-4 glandular streaks. Stamens included. Capsule globose, c 3mm diameter, 5-valved.
Ditch sides aand paddy-fields.
---
Lysimachia sp. for ID ABJUNE2017/04 : 9 posts by 3 authors. Attachments (5)
I have been seeing this loosestrife around buy have not seen open flowers as yet. I am not sure if we can identify this from the following images, but I am trying.
Near Dal Lake, Dharamshala, HP
1800m and 2000m
17 and 22 June 2017
---
Lysimachia species in eFloraofindia (with details/ keys from published papers/ regional floras/ FRLHT/ FOI/ Biotik/ efloras/ books etc., where ever available on net)
---
I hope this should be Lysimachia pyramidalis…
---
---
I tried matching with five species represented from Himachal in efi so far. But unable to match with anyone.
---
I think it is Lysimachia chenopodioides. I will file more photos soon.
---
Thanks, …,
You are right in your id as
Lysimachia chenopodioides

But before seeing your reply, I was doing my own research & reached at the same conclusion. I searched with all the species listed below:
We have most of these species in efi site, with which your post does not match.
---
Thank you very much … for confirming this. I will soon file more photos as promised.
---
---
.
---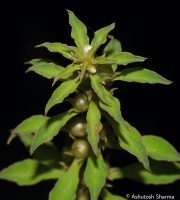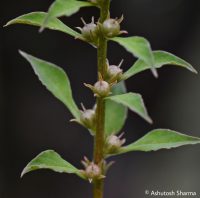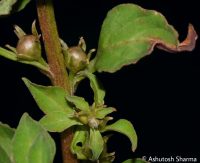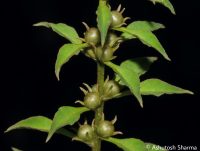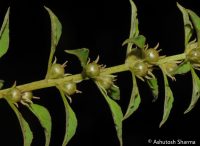 Lysimachia chenopodioides Watt ex Hook.f. submission AS4 January 2023: 5 high res. images.
Lysimachia chenopodioides Watt ex Hook.f.
Synonyms – Lysimachia glandulosa Klatt, Lysimachia knuthiana N.P.Balakr.
Family – Primulaceae
Photographed in Kullu district, Himachal Pradesh 
Elevation – 1900 metres asl