Flemingia stricta Roxb. (syn: Flemingia stricta var. pteropus Baker; Moghania stricta (Aiton) Kuntze (ambiguous synonym); Moghania stricta (Roxb.) Kuntze (ambiguous synonym); Moghania stricta var. pteropus (Baker) Mukerjee);
Bangladesh (N); Bhutan (N) ;

Cambodia (N) ; China (N) ; Yunnan ;

India (N) ;

Andhra Pradesh ; Assam; Bihar ; Mizoram ; Orissa ; Sikkim ; Tamil Nadu; Tripura; Uttar Pradesh; West Bengal ;

Indonesia (N); Jamaica (I); Jawa (N); Laos (N); Myanmar (N) ; Philippines (N) ; Thailand (N); Vietnam (N)
as per
ILDIS
;
---
Erect subshrubs, 1.5-2 cm high. Young stem 3-angled. Stem, young leaves, peduncles densely golden-pubescent. Leaflets 20-25 x 10-12 cm, oblong, lanceolate, long acuminate at apex, attenuate at base, 3-ribbed, glabrous above, pubescent on nerves below, scattered red-glandular on lower surface; lateral leaflets oblique; petioles 10-15 cm long. Stipules 1-1.5 cm long, lanceolate. Flowers in axillary clustered racemes. Fruits oblong, 0.8-1 cm long, 0.4-0.5 cm wide, 2-seeded, slightly puberulous without. Seeds minute, subglobose, black.
Flowering and fruiting: May-August
Evergreen and semi-evergreen forests
(Attributions- Dr. N Sasidharan (Dr. B P Pal Fellow), Kerala Forest Research Institute, Peechi from
India Biodiversity Portal
)
Please help me to ID this species
Date/Time- 4/10/09- 1PM
Location- Place, Altitude, GPS- Kokrajhar, Assam, Alt 190m
Habitat- Garden/ Urban/ Wild/ Type- Wild Type
Plant Habit- Tree/ Shrub/ Climber/ Herb- straggling Herb,
Leaves Type/ Shape/ Size- Compound pinnate 8-10.5x 15-20cm
Inflorescence Type/ Size- paniculate, 12-15cm
Flowers Size/ Colour/ Calyx/ Bracts- 1.2- 2 cm,purple in color
Fruits Type/ Shape/ Size Seeds- Not seen
SL No 041009 ASS 001
---
What a weird looking plant , looks like a grass but has leaves like dicot !!!!!!!!!!!! i have never seen a more weird plant than this!! Eagerly waiting to know the name.
---
Beautiful! I have not seen the plant, so i guess it could be a species or a relative of Flemingia (Fabaceae). I too want to know the id of this interesting plant. Thanks.
---
I do agree with … One of the Flemingea…
---
it can be Flemingia macrophylla
---
I think ur right … This appears to be Flemingia macrophylla.
---
it is Flemingia macrophylla…. observed this in Bihar- Pashchim Champaran forest, close to Nepal Border.
---
---
Flemingia macrophylla,
---
---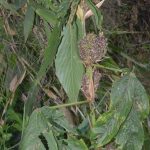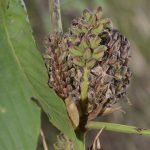 MS,July, 2021/10 Flemingia sp. for id.
: 2 images.
Place : Tamdil
Habit : Shrub

Habitat : Wild
---
Yes!
---
.
---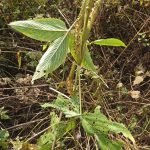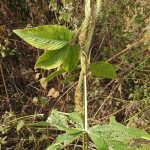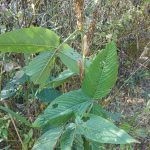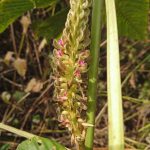 MS,Oct,2021/02 Flemingia sp.for Id.: 4 images.
Location : Cherhlun
Date : 03-02-2016
Habit : Undershrub
Habitat : Wild
---
Flemingia macrophylla
---
Yes …
---
I think Flemingia stricta as per images and details herein.
---
Yes …
---
---
.
References: Catalogue of Life  The Plant List Ver.1.1  World Flora Online  ILDIS  High resolution specimen  GBIF  POWO  Flora of China  FoC illustration  India Biodiversity Portal  Plant illustrations  Useful Tropical Plants  FRLHT