---
There's correction required in Impatiens scabrida page.
Actually what we have long treated as Impatiens scabrida DC. is actually Impatiens tricornis Lindl.
Impatiens scabrida DC. type specimen is characterised by having navicular lower sepal and a long straight downwardly curved spur.
While Impatiens tricornis is characterised by having bucciniform to funnel-shaped lower sepal abruptly constricted into the spur, which we can see in our Impatiens scabrida page images. So the Impatiens sp. that we earlier know as Impatiens scabrida is actually Impatiens tricornis.
For details please check 'Studies of Impatiens (Balsaminaceae) of Nepal 3. Impatiens scabrida and Allied Species' Shinobu Akiyama and Hideaki Ohba
Here's the link of publication
---
Thanks, …, I will do the needful pl., in due course.
---
---
Difference between Impatiens edgeworthii and Impatiens tricornis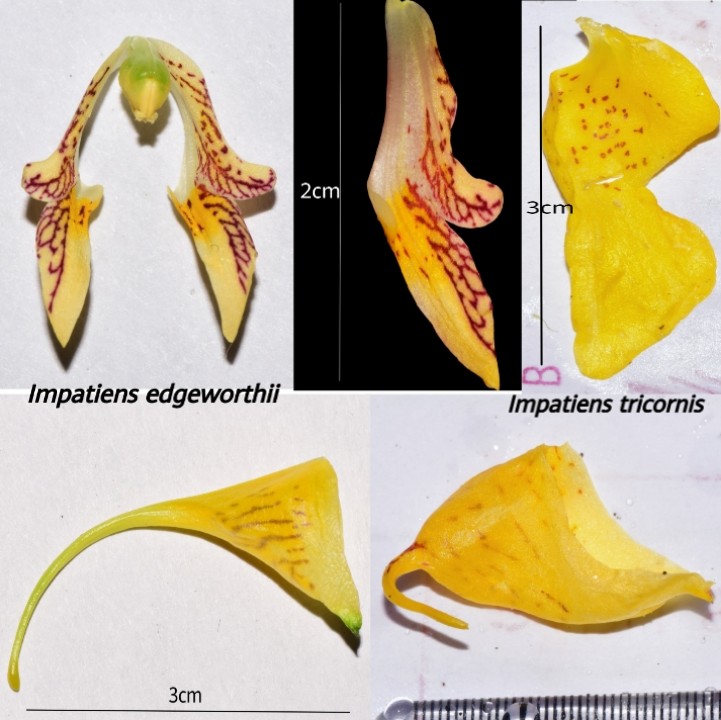 Keys to distinguish between Impatiens tricornis Lindl. and Impatiens edgeworthii Hook. f. : 7 posts by 4 authors. Attachments (3)
I am making this post to clear differences between Impatiens tricornis Lindl. (Synonyms – I. scabrida [sensu Hara (1979) and  Akiyama  et al.  (1991, 1992)]) and Impatiens edgeworthii Hook. f.
The darker yellow color form of Impatiens tricornis can be/is confused with Impatiens edgeworthii because of near similar yellow color but the key differences between the two species are –
1) In I. edgeworthii upper lobes of lateral united petals are prolonged and obliquely upwards while in I. tricornis these are much broader and never curves upward.
2) In I. edgeworthii lower sepal is infundibuliform, gradually narrowed into a long recurved spur while in I.tricornis it is  bucciniform to funnel-shaped and abruptly constricted into the spur.
3) The flower of I. edgeworthii is streaked red in the throat including upper lobe and half lower lobe of lateral united petal while in I. tricornis it is never streaked red though some rusty spots occur in the throat.
4) 
I. edgeworthii is glabrous including its capsules while I.tricornis is much hairy (pubescent) in nature though in lower altitude its less hairy form with much white flower also occurs but capsule remains puberulent in that also. 
Please see the attached images for clearing differences …

Note – Most(not all) of the Impatiens scabrida DC. that we know earlier is actually Impatiens tricornis Lindl. characterised by its bucciniform  to funnel-shaped lower sepal abruptly  constricted  into  the  spur while in true I. scabrida DC. lower sepal is navicular and tapers into a spur.
---
That means I.scrabida and I edgeworthii are syn of I.tricornis, is it ?
---
No … Impatiens scabrida DC., Impatiens tricornis Lindl. and Impatiens edgeworthii Hook.f. all three are distinct species and accepted names…
In this post i have cleared a lot of major differences between Impatiens tricornis and Impatiens edgeworthii.
Impatiens tricornis is much variable species with dark yellow flowers and hairy plant in higher altitude and also white flowers with very less hairy plant form in lower altitudes…
Please go through the paper of Dr. Shinobu Akiyama mam 'Studies of  Impatiens (
Balsaminaceae
) of Nepal 3. 
Impatiens scabrida
 and  Allied Species' there you can find good illustrations and much details to distinguish
I. tricornis
and
I. scabrida
…
Most of the post on our group under name
I.scabrida
is actually
I. tricornis.
however i am currently checking if there is any image of true
I. scabrida
DC. present on our group or not…
---
Thanks … for key and attachments. The crucial question is whether our specimens with suddenly tapered lower sepal is I. scabrida or I. tricornis if we treat them distinct species. the confusion all along has been status of I. tricornis. If we believe (as per Paper by Shinobu Akiyama and Hideaki Ohba) that specimens with "Lower sepal navicular or infundibuliform, 9–12 mm long, 5.5–8 mm deep (excluding the spur), tapering into a long upwardly or downwardly curved spur; spur 17–25 mm in overall length" are I. scabrida (No known Indian distribution according to these authors), and "Lower sepal pale yellow shaded with dull orange, bucciniform, (9–)15–18 mm long, (13–)20–25 mm deep (excluding the spur), abruptly constricted into incurved spur; spur curved, (8–)15–23 mm in overall length" is I. tricornis, we need to have key separating I. edgeworthii and I. scabrida as per new interpretation of these authors. This only will settle the matter for all. Until we have key separating all three matter can't be solved.
---
Syn: Impatiens cristata Wall.; I. calycina Wall.; I. hamiltoniana D. Don
I. praetermissa Hook.f.; I. tricornis Lindl.
Local names:

rindliya,

tilura
Branched annual herb often reaching up to 1 m tall, pubescent or subglabrous towards base, often purple; leaves alternate, elliptic to oblong-ovate, 6-15 cm long, sessile or short petiolate, petiole with two sessile glands at base, leaf margin sharply serrate, teeth gland-tipped, apex acuminate; flowers golden yellow, spotted with purple or brown, 3-4 cm long excluding spur, in 1-3 flowered clusters on up to 7 cm long axillary peduncles; pedicel with usually 2 lanceolate persistent 3-4 mm long bracteoles; 2 lateral sepals ovate-rounded, 5-6 mm long, mucronate; lower sepal broadly funnel-shaped, abruptly narrowed into incurved spur 10-12 mm long; upper petal broadly circular 12-15 mm long, 16-18 mm broad, with horn-like green outgrowth on back, bilobed at tip; lateral united petals without claws, bilobed, basal lobes rounded, distal lobes with inflexed auricle; capsule erect, linear, 25-40 mm long, ribbed hairy.

Photographed
from Manali and Chakrata
---