Cayratia japonica (Thunb.) Gagnep., Notul. Syst. (Paris) 1: 349 1911. (syn:  Causonia japonica (Thunb.) Raf.; Cayratia trifolia var. quinquefolia W. T. Wang; Cissus cyanocarpa Miq.; Cissus cymosa Steud.; Cissus japonica (Thunb.) Willd.; Cissus leucocarpa Bl.; Cissus paniculata Heyne; Cissus pentaphylla Herb. Madr. ex Wall.; Cissus truncata Laws.; Cissus vagans Carr.; Columella japonica (Thunb.) Merr.; Vitis cymosa Bl.; Vitis cymosa Wall.; Vitis irawadyana Steud.; Vitis japonica Thunb.; Vitis leucocarpa (Bl.) Hayata; Vitis paniculata Heyne ex Wall.; Vitis quinquefolia Noronha; Vitis truncata Wall.);
Tropical & Subtropical Asia to New Caledonia (Îs. Loyauté) as per POWO;
China (Anhui, Fujian, Guangdong, Guangxi, Guizhou, Henan, Hebei, Hunan, Hainan, Jiangsu, Shandong, Shanxi, Sichuan, Yunnan, Zhejiang), Taiwan, South Korea, India (West Bengal, Arunachal Pradesh, Assam, Nagaland, Manipur, Mizoram, Tripura, Meghalaya, Goa, Karnataka, Tamil Nadu, Kerala), Bangladesh, Indonesia, Philippines (Luzon, Mindoro, Panay, Mindanao), Vietnam, Laos, Bhutan, Australia (Queensland), Java, New Caledonia, Japan (Hokkaido, Honshu, Shikoku, Kyushu), Ryukyu Isl., Malaysia, Christmas Isl. (Austr.), Micronesia (Yap), Bonin Isl. (Chichijima), Andaman Isl. (Middle Andaman Isl., South Andaman Isl.), Palau Isl. (Todai-yama), Myanmar [Burma] (Bago, Chin, Kachin, Magway, Taninthayi, Yangon), Nepal, USA (I) (Louisiana (I), Mississippi (I), North Carolina (I), Texas (I)) as per Catalogue of Life;
.
---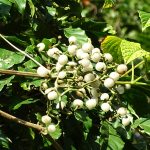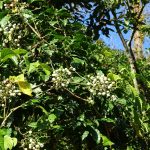 MS, Jan.,2021/01 Cayratia sp. ? for id.
2 images.
Location: Vanchengpui, Mizoram
Date : 19-11-2015
Habit : Climber
Habitat : Wild
---
Are these fruits ripe or raw ? You should have taken images of
full frontal and backside of leaves also.
---
What are the species reported?
---
Only Cayratia japonica is reported in Mizoram
---
Maybe as per keys at Cayratia
But I am not sure seeing the leaves texture (or maybe it is different at fruiting time) at
---
.
References: POWO  Catalogue of Life  The Plant List Ver.1.1  IPNI