Veronica spicata L., Sp. Pl. 10 1753. ;
.
Europe to Central Siberia and NW. Xinjiang: Albania, Altay, Austria, Baltic States, Belarus, Bulgaria, Central European Rus, Czechoslovakia, Denmark, East European Russia, Finland, France, Germany, Great Britain, Hungary, Italy, Kazakhstan, Krasnoyarsk, Krym, Mongolia, North Caucasus, North European Russi, Northwest European R, Norway, Poland, Romania, South European Russi, Spain, Sweden, Switzerland, Turkey-in-Europe, Ukraine, West Siberia, Xinjiang, Yugoslavia; Introduced into: Connecticut, Netherlands, New Hampshire, New York, Ontario, Primorye, Québec as per POWO;
.
---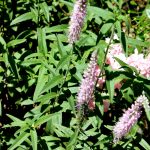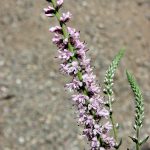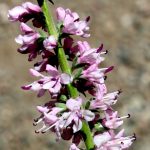 Veronica spicata from California-GS25022021-1
3 images.
Veronica spicata L.
Common name: Spiked Speedwell
Perennial herb with lanceolate toothed leaves and small pink to blue flowers in erect up to 30 cm long spikes.
Clicked from Filoli Gardens, Woodside, California, 22-6-2019.
---
---
.
References: POWO  Catalogue of Life  The Plant List Ver.1.1  Wikipedia
https://plants.ces.ncsu.edu/plants/veronica-spicata/
https://www.thespruce.com/veronica-plant-profile-2132565
https://calphotos.berkeley.edu/cgi/img_query?enlarge=0000+0000+0105+2534