Acilepis aspera (Buch.-Ham.) H. Robinson, Proc. Biol. Soc. Washington 112: 226 (1999) (syn: Cacalia pyramidale (D. Don) Kuntze; Conyza aspera Wall. ex Steud.; Conyza platylepis Spreng. ex DC.; Eupatorium asperum Roxb.; Eupatorium pyramidale D. Don; Onopordon carthamoides Buch.-Ham. ex Wall.; Vernonia aspera (Roxb.) Buch.-Ham.; Vernonia pyramidale (D. Don) S. N. Mitra; Vernonia roxburghii Less.; Vernonia thorelii Gagnep.; Xipholepis aspera (Buch.-Ham.) Steetz);
.
Indian Subcontinent to S. China and Indo-China: Assam, China South-Central, East Himalaya, Hainan, India, Laos, Myanmar, Nepal, Thailand, Vietnam as per POWO;
.
China (Guizhou, Hainan, Yunnan), Laos, Vietnam, India (Uttar Pradesh, Bihar, West Bengal, Assam, Nagaland, Manipur, Meghalaya, Orissa, Madhya Pradesh, Maharashtra), Nepal, Bhutan, Thailand, Myanmar [Burma] (Kachin, Mandalay, Sagaing, Yangon), Bangladesh as per Catalogue of Life;
.
---
Less, in Linnoea, 1831, 674 ; rigid, scabrid, leaves hard subsessile or petioled elliptic or obovate-lanceolate acuminate acutely serrate, heads 30-flowered large fascicled in terminal panicled corymbs, invol. bracts linear obtuse and apiculate or acuminate or pungent outermost subulate, achenes sparsely hairy, pappus dirty white or reddish. Kurz in Journ. As. Soc. 1877, ii. 200. V. aspera, DC. Prodr. v. 31, not of Ham. ; Wall. Cat. 2922, excl. A. ; Clarke Comp. Ind. 17. Eupatorium asperum, Roxb. Hort. Beng. 61 ; Fl. Ind. iii. 415. E. pyramidale, Don Prodr. 170. Xipholepis aspera, Steetz in Peters Mosamb. Rot. 345 ? excl. syn.
WESTERN HIMALAYA ; Kumaon, Royle, Edgeworth. CHOTA-NAGPORE, and CENTRAL INDIA, alt. 1-4000 ft. BEHAR, J. D. H. CONCAN, Law (perhaps cult.) ; BIRMA, at Bhamo, on dry hills, Griffith.
More branched than V. teres ; leaves often narrowed into a slender petiole, acumi¬nate and deeply serrate ; heads smaller, very numerous ; invol. bracts fewer and broader, inner 1/3 in., quite linear ; achenes as large, less hairy and only between the ribs ; outer pappus hairs often absent.
(Attributions- IBIS Flora (Flora of British India))
.
---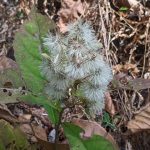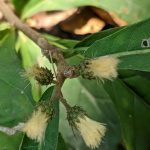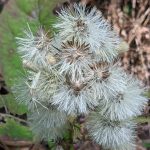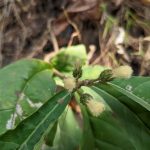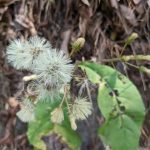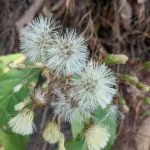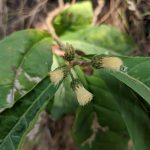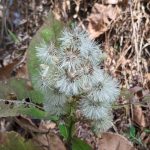 SK 2879 13 March 2021: 9 images.
Location: Central Nepal
Altitude: 550 m.
Date: March 20121
Habitat : Wild
Asteraceae ??
Sent by a friend !
---
Does any close genus comes to your mind?
---
Could not make up mind yet !
---
I tried comparative images of many subfamilies and tribes of Asteraceae, but could not find any close species. I think it may be some species from Vernonieae as per comparative images herein. 
---
I think it is Vernonia aspera Buch.-Ham. as per FoC illustration and GBIF– specimen 1 and specimen 2
---
---
.
References: POWO  Catalogue of Life  The Plant List Ver.1.1  GCC  IPNI  GBIF– specimen 1 specimen 2 (High resolution specimens) Flora of China  FOC illustration  Annotated checklist of Flowering plants of Nepal  Flora of peninsular India  IBIS Flora (Flora of British India) FRLHT