Adiantum tenerum Sw., Prodr. 135 1788. (syn: Adiantum assimile Link; Adiantum bessoniae Jenm.; Adiantum bessonianum; Adiantum extensum Fée; Adiantum fergusonii T. Moore; Adiantum ghiesbreghtii ; Adiantum glaucophyllum Hook.; Adiantum littorale Jenm.; Adiantum multiforme A. Br.; Adiantum tenerum var. littorale (Jenm.) Domin; Adiantum tenerum var. majus T. Moore; Adiantum tenerum var. minus Kunze; Adiantum tenerum var. obtusissimum Christ; Adiantum trapeziforme var. trapezoides (Fée) Baker; Adiantum trapezoides Fée);
.
Tropical & Subtropical America: Bahamas, Belize, Brazil Northeast, Brazil South, Cayman Is., Colombia, Costa Rica, Cuba, Dominican Republic, El Salvador, Florida, Guatemala, Haiti, Honduras, Jamaica, Leeward Is., Mexico Central, Mexico Gulf, Mexico Northeast, Mexico Southeast, Mexico Southwest, Nicaragua, Puerto Rico, Trinidad-Tobago, Venezuela, Windward Is.; Introduced into: Andaman Is., Hawaii, India, Malaya, Marianas, Philippines, Solomon Is., Sri Lanka, Taiwan as per POWO;
.
---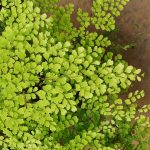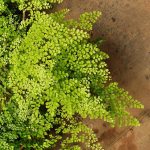 Adiantum Species for ID : Nasik : 07APR21 : AK-08: 2 images.
A cultivated plant seen at a plant nursery in Nasik.
---
Pl. post high resolution images.
---
Here they are..
---
This is Adiantum tenerum (like a big A. capillus-veneris, but more rectangular segments).  Commonly cultivated and fairly commonly adventive in south India, and Sri Lanka etc. Native to S. and C. America.
---
---
.
References: POWO  Catalogue of Life  The Plant List Ver.1.1  Tropicos  IPNI