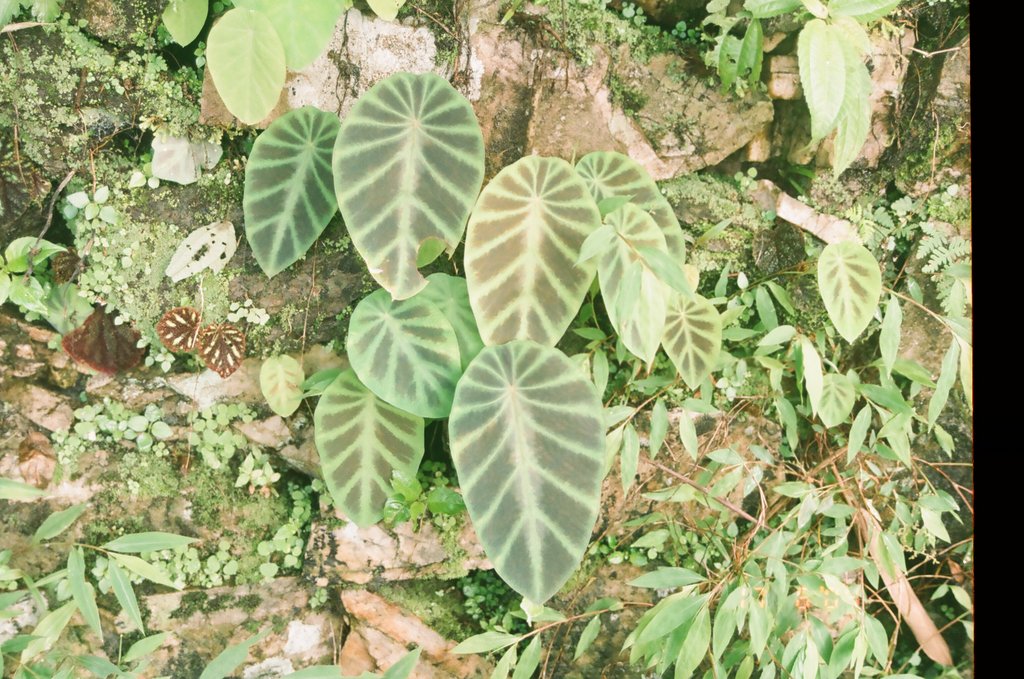 Another very old scanned picture taken on way to Darjeeling, on the mountain slope.
Could this be Remusatia species?
---
I agree with you.
---
Thanks … Can it be Remusatia pumila?
---
I would have thought of this to be as common as Colocasia esculenta.
---
Given the almost completely peltate character of the leaf more likely Colocasia affinis var. jenningsii
---
… has added this picture on the
FOI
site as 
Colocasia affinis
.
I still wanted to hear from …, our expert on Colocasia.
---
Sorry.. I cannot help with this one. I would guess
Steudnera
first, but without any floral details this is a very uncertain guess.
One thing to note is that there is some serious discussion of the ecological role of variegation in flowering herbs and vines in deep shade on forest floors (see Gurevitch et al. (2006) "The Ecology of Plants" (second edition) pp. 36-40.  Variegated leaves help capture "sun flecks." – yellow or red portions help catch the green end of the light spectrum) (this information comes from a ResearchGate discussion thread). This may partly explain why unrelated aroids of the forest floor have a tendency to display similar variegated leaf colours.
---
It is also possible that it may be some Remusatia species like Remusatia pumila (D.Don) H.Li & A.Hay
---