Amorphophallus longiconnectivus Bogner, Kew Bull. 50: 397 1995. (syn: Plesmonium burkillii Engl. & K.Krause ex Haines);
.
India (Madhya Pradesh, Maharashtra) as per POWO;
.
---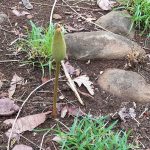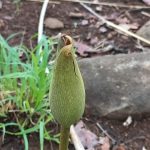 Need help with strange, post-rain flower: 2 images- 1 high res.
bhopal; black soil
4/6/2021
---
Let the bud open !
---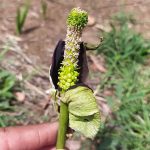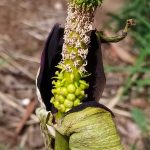 Here, sir, the buds have begun opening.
2 images- 1 high res.
---
Typhonium  ??
---
Looks different as per comparative images at Typhonium
---
Also could not find a match as per comparative images at Araceae
---
Any idea about the genus ?
---
I would guess it is Amorphophallus, as the genus extends into relatively dry regions with underground tubers that are drought resistant.
---
Amorphophallus section Raphiophallus, most likely Amorphophallus longiconnectivus (or close to it) but AFTER flowering as the pollen has already been shed.
---
Yes, it may be Amorphophallus longiconnectivus. From same location, I too have located and collected the specimens.
---
International Aroid Soceity, Inc.
---
.
---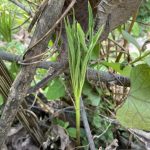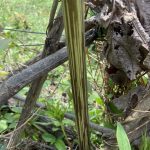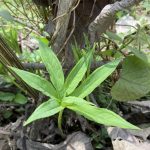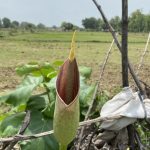 ID Request – 230621AS01- Maybe amorphophallus commutus or amorphophallus sylvaticus: 4 images.
Could you help me identify this plant please?
Date/Time- 22/06/21, 10:45 am
Location- Mowgri, Madhya Pradesh, near Satpura National Park, Madhai, GPS-
Habitat- Wild Type- growing wild at the edge of a field, alongside a seasonal nala.Plant Habit- Herb/tuber
Height/Length- 3 ft
Leaves Type/ Shape/ Size- deeply lobed, with 
Inflorescence Type/ Size- Single flower
Flowers Size/ Colour/ Calyx/ Bracts- Single flower emerged directly from the soil, on a stem that was green with black streaks like dashes. The flower was a deep red on the inside and greenish on the outside.
---
Amorphophallus mysorensis E.Barnes & C.E.C.Fisch. ??
---
---
---
Thanks …! It does seem like it is Amorphophallus longiconnectivus 🙂
---
---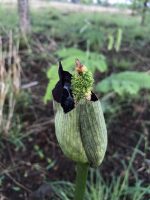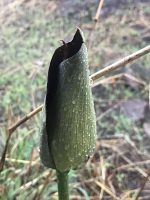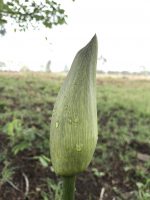 Need help with Araceae ID: 4 images.
Bhopal
Black soil
4/7/2022
---
no leaf ??
---
Looks like Armophophallus longiconnectivus.
---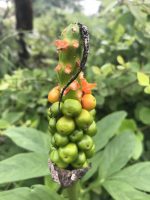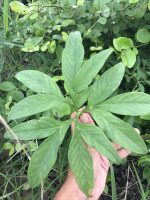 Adding a picture of the leaf and developing fruiting body here for further clarification.
---
---
.
References:
POWO  Catalogue of Life  The Plant List Ver.1.1  WCSP  IPNI  GBIF (High resolution specimens) India Biodiversity Portal  Research Gate  IAS
Amorphophallus longiconnectivus and A. margaritifer: additional aroids from Maharashtra with notes on the floral variations (pdf)- Avinash R. Gholave, Ravikiran S. Govekar, Vasanta I. Kahalkar, Milind M. Sardesai & Shrirang R. Yadav- JoTT Vol. 10 No. 11 (2018) (Abstract- Genus Amorphophallus Blume ex Decne. comprises 203 species worldwide (The Plant List 2013). It is distributed in tropical Africa, Madagascar, tropical and subtropical Asia, Archipelago, Melanesia and Australia (Mayo et al. 1997). In India the genus is represented by 19 species and fve varietes belonging to three sectons, viz., Amorphophallus, Conophallus (Schot) Engl. and Rhaphiophallus (Schot) Engl., of which 13 species and three varietes are endemic to India (Jaleel et al. 2011, 2012, 2014). As a part of taxonomic revision during our exploratons in northeastern Maharashtra, we collected Amorphophallus longiconnectvus and A. margaritfer and reported the foral variatons (Image 1). A. longiconnectvus and A. margaritfer show a range of variaton which needs to be considered by future taxonomists before describing a new species. The specimens (A.R. Gholave & Kahalkar ARG-52, A.R. Gholave & Kahalkar ARG-59) have been deposited in Shivaji University Kolhapur (SUK).)