Schefflera clarkeana Craib, Fl. Siam. 1: 797 1931. (syn: Heptapleurum ellipticum var. macrophyllum (C.B.Clarke) Lowry & G.M.Plunkett; Heptapleurum venulosum var. macrophyllum C.B.Clarke; Schefflera elliptica var. macrophylla (C.B.Clarke) M.Mohanan);
.
SW. India, Myanmar to Thailand: India, Myanmar, Thailand as per POWO;
.
Andhra Pradesh, Arunachal Pradesh, Mizoram, Tamil Nadu as per Flora of Eastern Ghats;
.
---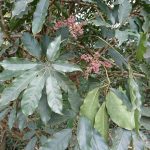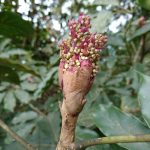 MS,Nov.,2021/09 Tree for id.: 2 images.
Location : Dampui-ngaw
Date : 01-03-2016
Habit : Small tree
Habitat : Wild
---
Please check Schefflera !
---
Yes, appears to be Schefflera, as per comparative images herein.
What are the keys?
---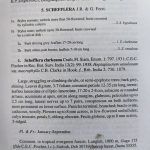 ---
I think Schefflera clarkeana Craib as per GBIF specimens- one and two.
---
---
.
References: POWO (Heptapleurum clarkeanum (Craib) Lowry & G.M.Plunkett) Catalogue of Life  The Plant List Ver.1.1  WCSP  IPNI  GBIF specimens- one and two (High resolution specimens) BSI Flora of India  Flora of Eastern Ghats IBIS Flora (Flora of British India)