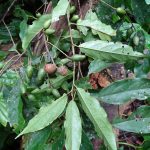 MS,Nov.,2021/27 Tree for id.: 2 images.
Location : Dampui-ngaw
Date : 25-08-2016
Habit : Tree
Habitat : Wild
---
Olea ?
---
This is Cryptocarya of Lauraceae. A number of new species (3-4) were described by Gangopadhyay in 2006 and it seems one of them.
---
If Cryptocarya, then it may be a new record also. Please try to collect specimens.
---
Any chances of it being some Sarcosperma species?
---
Sarcosperma arboreum?
---
Looks different from images at Sarcosperma arboreum
---
What are the species of Cryptocarya reported in your book?
---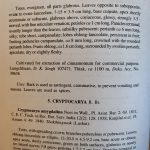 Only Cryptocary amygdalina is reported in Mizoram as per my book.
---
I checked all the species listed in the checklist of BSI Flora of India, with distribution in the North East.
There is some possibility of 
Cryptocarya amygdalina
, although there is some difference in apex and fruit shape is also slightly different as per 
GBIF
 specimens- 
one
, 
two
, 
three
, 
four
.
---