Rhus glabra L., Sp. Pl. 1: 265 1753. (syn: Rhus albida Greene; Rhus angustiarum Lunell; Rhus aprica Greene; Rhus arbuscula Greene; Rhus arguta Greene; Rhus asplenifolia Greene; Rhus atrovirens Greene; Rhus auriculata Greene; Rhus borealis (Britton) Greene; Rhus calophylla Greene; Rhus caroliniana Mill.; Rhus cismontana Greene; Rhus cismontana var. flavescens D.M.Andrews; Rhus coccinea Dippel; Rhus elegans Aiton; Rhus elegans var. glauca Demcker; Rhus elegans var. superba Demcker; Rhus elegantula Greene; Rhus glabra f. abludens Moldenke; Rhus glabra var. borealis Britton; Rhus glabra var. cismontana (Greene) Cockerell; Rhus glabra var. coccinea Pursh; Rhus glabra var. dioica DC.; Rhus glabra var. elegans (Aiton) Engl.; Rhus glabra f. flavescens (D.M.Andrews) Rehder; Rhus glabra var. hermaphrodita DC.; Rhus glabra f. laciniata (Carrière) B.L.Rob.; Rhus glabra var. laciniata Carrière; Rhus glabra var. occidentalis Torr.; Rhus glabra var. sandbergii Vasey; Rhus hapemanii Lunell; Rhus ithacensis Greene; Rhus laevicaulis Torr. ex A.Gray; Rhus longula Greene; Rhus ludoviciana Greene; Rhus macrothyrsa Goodd.; Rhus media Greene; Rhus nitens Greene; Rhus occidentalis (Torr.) Blank.; Rhus oreophila Greene; Rhus petiolata Greene; Rhus pulchella Greene; Rhus pyramidata Greene; Rhus sambucina Greene; Rhus sandbergii Greene; Rhus sanguinea Dippel; Rhus sorbifolia Greene; Rhus tessellata Greene; Rhus valida Greene; Schmaltzia glabra (L.) Small; Toxicodendron glabrum (L.) Mill.; Turpinia glabra Raf.);
.
U.S.A. to Mexico (Sonora, Chihuahua): Alabama, Alberta, Arizona, Arkansas, British Columbia, California, Colorado, Connecticut, Delaware, District of Columbia, Florida, Georgia, Idaho, Illinois, Indiana, Iowa, Kansas, Kentucky, Louisiana, Maine, Manitoba, Maryland, Massachusetts, Mexico Northeast, Mexico Northwest, Michigan, Minnesota, Mississippi, Missouri, Montana, Nebraska, Nevada, New Hampshire, New Jersey, New Mexico, New York, North Carolina, North Dakota, Ohio, Oklahoma, Ontario, Oregon, Pennsylvania, Québec, Rhode I., Saskatchewan, South Carolina, South Dakota, Tennessee, Texas, Utah, Vermont, Virginia, Washington, West Virginia, Wisconsin, Wyoming as per POWO;
.
---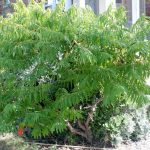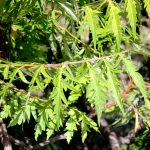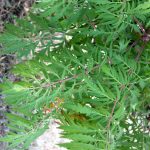 Rhus glabra f. laciniata from Brampton Canada-GS03052022-4: 3 very high res. images.
Rhus glabra f. laciniata photographed from Brampton Canada, 31-8-2019
---
---
.
References:
POWO  Catalogue of Life  The Plant List Ver. 1.1  Tropicos  IPNI
https://www.mygardenlife.com/plant-library/6383/rhus/glabra/laciniata
https://www.alamy.com/stock-photo/rhus-glabra-laciniata.html
https://garden.org/plants/view/130687/Smooth-Sumac-Rhus-glabra-Laciniata/