Gymnosporia thomsonii Kurz, J. Asiat. Soc. Bengal, Pt. 2, Nat. Hist. 44(2): 202 1875. (syn: Maytenus kurzii Bennet & K.C.Sahni; Maytenus thomsonii (Kurz) D.C.S.Raju & Babu);
.
Central & E. Himalaya to Myanmar: Assam, East Himalaya, Myanmar, Nepal as per POWO;
.
---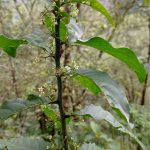 Requesting I'd of Gymnosporia sp: 1 high res. image.
Kindly help in the I'd of Gymnosporia species from Sikkim. Elevation- 1500 m.
Leaves longer than G.rufa and stems have somewhat whitish tinge that gets stuck to fingers.
---
Pl. check with
https://efloraofindia.com/2011/03/03/gymnospora/
---
I think this is Gymnosporia thomsonii Kurz as per POWO  specimen and BSI Flora of India and keys.
---
---
.
References:
POWO specimen  Catalogue of Life  The Plant List Ver.1.1  GBIF (High resolution specimens) BSI Flora of India and keys  India Biodiversity Portal