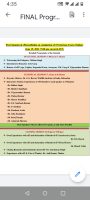 Detailed Program of the Summit:: 19.06.2022: 1 pdf.
Please find attached the program of the Summit, anyone interested to speak, other than listed here may volunteer for the same, and let me know about it..
Hoping for kind cooperation and active participation from each one here….
---
Thanks a lot, Nidhan ji, for all your hard work and leadership qualities.
---
Very well done Nidhan ji
---
Thank you very much, Nidhan ji. Superb organizing efforts.
---
Thank you Nidhan Ji for finalizing the time schedule of this program.
I shall require hardly 3-5 min.
---
Very hard work Nidhan sir!!
---
Excellent dear Nidhan ji, thank you very much for sharing,
---
Nidhan ji
Very happy to know about the program.
Though not very active recently I will surely attend. Looking forward to meet you all.
---
Great, Satish ji
---
Thanks Satish Phadke Ji…
It will be our pleasure to interact with you…!!
---
.
---
Summit:
It was indeed a pleasure to attend the summit. Hope we can have an annual event if possible..
---
Thanks, …, for being there in the Summit.
---