Ephedra saxatilis (Stapf) Royle ex Florin, Kongl. Svenska Vetensk. Acad. Handl., ser. 3, 12(1): 25 (1933) (Syn: Ephedra gerardiana var. saxatilis Stapf; Ephedra likiangensis f. mairei (Florin) C.Y.Cheng; Ephedra likiangensis var. mairei (Florin) L.K.Fu & Y.F.Yu);
.
Nepal to China (N. Yunnan): China South-Central, East Himalaya, Nepal, Tibet as per POWO;
.
---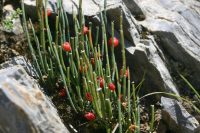 Ephedra:
Sharing two pictures of Ephedra gerardiana ssp saxatilis taken from Deoban, Uttarakhand (ca 3000m). As you know, Deoban is isolated from the Inner Himalaya which is home to E. gerardiana. Genetic studies are warranted to tell the real difference between the two.
I am copying this to Dr. Anzar Khuroo who has supervised a revisionary study on Indian Ephedraceae.
---
---
.
References:
POWO  Catalogue of Life  GBIF (High resolution specimens) Flora of China  Wikimedia Commons  Conifers  Biolib