Pilea pubescens Liebm., Johnson's Gard. Dict. 1056 (1894) (syn: Adicea involucrata Kuntze, Pilea diffusa Griseb., Pilea fuscata Liebm., Pilea gaudichaudiana Wedd., Pilea grossecrenata Miq., Pilea guyanensis Wedd., Pilea involucrata Urb., Pilea pubescens var. fuscata (Liebm.) Wedd., Pilea pubescens var. guyanensis (Wedd.) Wedd., Pilea pubescens var. rupicola (Wedd.) Wedd., Pilea rupicola Wedd., Pilea xalapensis Wedd., Urtica grandifolia Sw. ex Griseb., Urtica grossecrenata Mart. ex Miq., Urtica radicans Pohl ex Miq.);
.
Mexico to Tropical America: Argentina Northeast, Belize, Bolivia, Brazil North, Brazil Northeast, Brazil South, Brazil Southeast, Brazil West-Central, Colombia, Costa Rica, Cuba, Ecuador, El Salvador, French Guiana, Guatemala, Guyana, Honduras, Mexico Central, Mexico Gulf, Mexico Northeast, Mexico Southeast, Mexico Southwest, Nicaragua, Panamá, Paraguay, Peru, Suriname, Trinidad-Tobago, Venezuela as per POWO;
.
---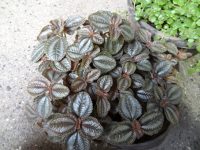 Mumbai, July 2022 :: Pilea for ID :: ARK2022-105: 1 very high res. image.
This was clicked at a flower exhibition at VJTI in Mumbai in Feb 2015.
Requested to please provide ID.
---
Pl. check
https://efloraofindia.com/2011/03/21/pilea/
---
Had checked eFI before posting but could not find a match.
Google search provided 2 names – Pilea spruceeana Norfolk and Pilea involucrata
Would appreciate any help.
Pilea involucrata (Sims) Urb. !
---
Appears close as per images at
https://www.ukhouseplants.com/plants/piles-involucrata
https://www.gardeningknowhow.growing-friendship-plants.htm
https://terrariumtribe.com/terrarium-plants/pilea-involucrata-friendship-plant/
---
---
.
References:
POWO  NCSU
https://www.ukhouseplants.com/plants/piles-involucrata
https://www.gardeningknowhow.growing-friendship-plants.htm
https://terrariumtribe.com/terrarium-plants/pilea-involucrata-friendship-plant/