---
A link I found on net:
Though not found this name in IPNI or any other taxonomic site like The Plant List.
---
---
---
Shown on 30/3/2012 by … of TAW.
---
Id request for attached plants.

Location- Salem (Altitude- 3000 ft.)
---
It looks like Litsea glutinosa. I would like to suggest … that the images should be clear to note the key characters; by experience we are judging
---
2nd image identified as Rhynchosia minima in another thread.
---
Found this tree in Yelagiri hills of Eastern ghats at an elevation of 1500 M.
---
It is a member of Lauraceae family as seen from flower. Can it be Litsea monopetala.
---
Great. by the looks of the pictures background it seems the pictures were taken indoors. i see room wall and roof meeting line? so did the flowers wilt while the twig was brought indoors?
---
I didn't take the camera handy. So I plucked a twig and captured in a room.
---
Also check for Anogeissus latifolia. 
---
It is Litsea glutinosa of Lauraceae
Nice pictures, the leaves are variable hence sometimes creates some confusion
---
Date : 06-09-2019
Habit : Shrub or small to middle-sized tree
---
---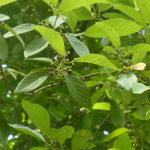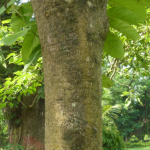 ID Request – initial guess Litsea glutinosa
: 2 high res. images.
Date/Time- 19-07-2021 08:00 AM
Location- Place, Altitude, GPS- Dhakuria lake, Kolkata
Habitat- Garden/ Urban/ Wild/ Type – Urban
Plant Habit- Tree/ Shrub/ Climber/ Herb- Tree (Medium)
Height/Length- 30 Feet 
Leaves Type/ Shape/ Size- Simple, oval, 5-7''
Inflorescence Type/ Size- not seen
Flowers Size/ Colour/ Calyx/ Bracts- not observed yet
Fruits Type/ Shape/ Size Seeds- small, roundish, in loose cluster, blackish when ripe 
Other Information like Fragrance, Pollinator, Uses etc:
quite a few young trees growing under it
---
References: