---
I would love to know the botanical name of this bush. The tender leaves are white. Some of them drop down too.
The flowers are dark orange in colour, the fruits are round and green, about 10 mm diameter.
I wonder if the colour of the tender leaves or at least the leaves close to the flower is to attract moths at night? Is it a plant that
is pollinated by moths at night?
Date & Time        28 June 2010, time 5.00 PM
Location: Place, Altitude, GPS        Chethalayam,  Wayanad, Kerala.
Habitat: Garden, Urban, Wild Type:        Wild
Plant Habit: Tree, Shrub, Climber, Herb        Shrub
Height, Length.        10'
Leaves Type, Shape, Size
Inflorescence Type Size
Flowers Size Colour Calyx Bracts-        Orange
Fruits Type, Shape, Size Seeds        Green , Oval, 10 mm by 15 mm
Other Information like Frangrance, Pollinator, Uses.
---
The plant might be Mussaenda bellila (Rubiaceae)
---
yes this is Mussaenda bellila
---
This may be Mussaenda glabrata as per discussions and keys at Amboli, MH :: Mussaenda for ID :: ARK2021-110, as the fruits appear to be glabrous..
---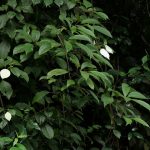 Mussaenda glabrata :: Iruppu Falls, Coorg :: 12 NOV 19
: 3 posts by 2 authors. 1 image.
Iruppu Falls
 Coorg

Date: November 12, 2019 … Altitude range: about 850 – 1,000 m (2,800 – 3,300 ft) asl

Mussaenda glabrata
 (Hook.f.) Hutch. ex Gamble

Mussaenda glabrata:
Fruiting of
Mussaenda glabrata
Common names:
Dhobi's kerchief
,
Bhatkes
(Marathi),
Bedina
(Hindi) ,
Nagballi
(Bengali)
Ref: Common Indian Wild Flowers
By Isaac Kehimkaar
At lonavala, Maharashtra
---
---
Mussaenda glabrata:
Looks like Mussaenda glabrata
Google search for this species returned … link.
(PS: I could not find the plant taxonomy details in the net.)
Near dodda hole (Big river), along the estate fence,
Near to Sonda, Uttara kannada, Western ghats.
22 June 2009 2:42 PM
Height ~1/2 meter, White sepal, Leaf size 15 cms,

(Record shot, Photo details may not be enough to fulfill the exact plant identification)
---
This plant is indeed Mussaenda glabrata (Hook.f.) Hutch. ex Gamble (Syn: Mussaenda frondosa Hook.f. var. glabrata) .
---
Me too believe your plant to be M. glabrata.
---