Aloe maculata All.
,
Auct. Syn. 13 1773
. (Syn:
Aloe disticha Mill.
;
Aloe gasterioides Baker
;
Aloe grahamii Schönland
;
Aloe latifolia (Haw.) Haw.
;
Aloe leptophylla N.E.Br. ex Baker
;
Aloe macracantha Baker
;
Aloe maculosa Lam.
;
Aloe picta var. major Willd.
;
Aloe saponaria var. latifolia Haw.
;
Aloe spuria A.Berger
;
Aloe trichotoma Colla
;
Aloe umbellata DC.
);
.
S. Africa: Cape Provinces, Free State, KwaZulu-Natal, Lesotho, Northern Provinces
; Introduced into:
Argentina Northeast, Baleares, Corse, Italy, Mauritius, Mexico Central, Mexico Northeast, New South Wales, New Zealand North, New Zealand South, Norfolk Is., Portugal, Queensland, Réunion, South Australia, Spain, St.Helena
as per
POWO
;
.
Common name:
 Soap Aloe, Zebra Aloe, African Aloe, Broadleaf aloe
---
Aloe maculata
??
pls validate
from cactus park
Panchkula
---
Aloe maculata

---
.
Location:  Manju Park, Soureni, India 
---
yes most likely, spotted, and thorns pointing straight out almost 90 degrees or slightly downwards.
Aloe maculata
often grown in houseplants 
---
Location: ICIMOD, Godawari
Elevation: 1474m.

Habitat: Cultivated
---
---
This could be Aloe maculata as pictures on searching look similar.
---
efi page on Aloe maculata
---
Really cannot tell species of Aloe from flowers alone, need a look at the leaves, size of plants, then maybe.
---
Fully agree with …
---
My search led to the Soap Aloe, Aloe maculata.
---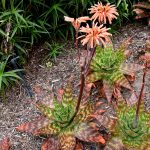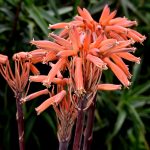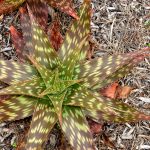 Aloe maculata from SFO Botanical Garden-GS21022022-1
: 3 very high res. images.
Aloe maculata
photographed
from San Francisco

Botanical Garden,

California, 2-6-2019
---