---
Images by Alok Mahendroo, 2, inserted by Gurcharan Singh (please click links to see details and more images).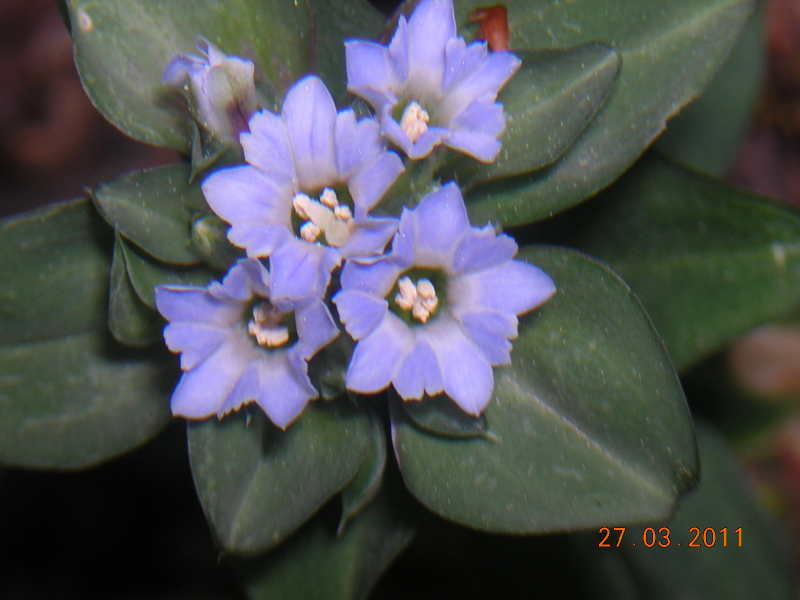 Location Kalatope, Chamba
Altitude 2100 mts
Habit herb
Habitat wild
Plant height 6 inches
---
Not very sure but could be fruiting Gentiana carinata
---
I think sir you are very right…. But didn't you mean G. capitata…
for which I had posted an observation earlier and the leaves of which match these…?? An oversight of mine… since I did not think of comparing these two earlier…
---
Although Flowers would have been conclusive, I think you may be right. The leaves appear more like Gentiana capitata.
---
I found this near a leaking pipe today. I have no idea what this is. Please advise.
Above Mcleodganj, Dharamshala, HP
1800m approx.
31 March 2015
---
Some Gentiana species (Gentianaceae).
---
Gentiana
species in India & eFIoraofindia with details & some keys
---
It can be tried under Family Crassulaceae at BSD or FRI, Dehra DUN
---
Thank you … I live in Dharamshala and have no access to a good herbarium nearby. But if I go to Dehradun some time, I will try and visit FRI.
---
What … meant was Gentianaceae not Crassulaceae; as I feel.
---
ok … You may correct me but still I feel that this plant is not from
Gentianceae
---
Reminds me of Gentianaceae….
---
A long time ago I had found a similar plant on the other side of Dhauladhar mountains in the Kalatop Sanctuary and had posted it here….
But next year I had realised that I had just missed the season by a few days and actually found the flowers… here's the post
maybe it is something similar… you'll have to remember next year… or perhaps search nearer to Triund… 😉
---
Thank you … My sample looks very similar to yours and is very likely be the same plant Gentiana capitata.
I found your excellent nature blog last year and it has helped me since in my Moth/insect/plant IDs tremendously.
Location: Pilot Baba Ashram, Bhaktapur , Nepal
Altitude:  5500 ft.
Gentiana pedicellata (Wall. ex D. Don) Griseb. (accepted name) ???
---
See my recent post about the specimens in bud.  These seem closer to Gentiana capitata. See images of G.pedicellata on efI. for comparison.  Have not had a chance to inspect these closely so these are very much preliminary thoughts, I must keep my main focus on Primulaceae for the present.
---
Yes I agree with …!
Location: Pilot Baba Ashram, Bhaktapur , Nepal
Gentiana capitata 
(accepted name)
 ???
---
It is difficult as the flowers are only in bud and I am not that familiar with flora at these lower elevations in the Eastern Himalaya but a quick looks suggests this is not
Gentiana pedicellata
(which is known from such elevations in Nepal).  Appears closer to
Gentiana capitata
– cannot locate too many images claiming to be this from internet – though there are line drawings of both species in 'Flowers of the Himalaya'.  There is an image in Alok's blog which you will all know but IF that is correct, it represents a NW extension of its range.  Previously only known from Kumaon to Bhutan, Assam, Myanamar. Flowers of Himalaya say Uttarakhand to SE Tibet @ 1500-4500m (which is quite an altitudinal range).  They say flowering December to April. 
I also checked with efI which has a number of postings thought to be this (mostly in fruit).  Would be useful to see it in flower.  What do others think?  I am uncertain (not ready yet to comment on Gentianaceae on efI- still occupied with Primulaceae and then would cover other families before facing the gentians).
---
It was not flowering then but plant was not there today at the spot.
However, keeping in mind the flowering season and leaf structure 
I guessed it to be G. capitata.
I hope Gentiana capitata.
---
I have been photographing these gentians (perhaps more than once species) since mid-Feb and trying to confirm if these are all G. argentea. The calyx is not as long as the corolla and the stem is not always branching from the base. What are the main characteristics which will establish G. argentea decidedly? Please advise.
Could the first two be G. capitata?
Above Mcleodganj, Dharamshala, HP
Could the first two be
G. capitata
?
---
I think appears closer to images at Gentiana capitata
---
I photographed the seeds yesterday and am sharing it here. Attachments (1)
Attachments (9)
---
I photographed the seeds yesterday and am sharing it here. Attachments (1)
---
This last gentian is the G. capitata. Since I have filed a number of photos showing the habit, flowers, seeds, etc., I will file here one photo showing the throat hair which I hadn't noticed before. The flowers were about 10mm across fitting in-between G. argentea and G. pedicellata.
Gentiana capitata
Above Mcleodganj, Dharamshala, HP
ca. 1750m
17 January 2018.
---
Kindly give correct identification of the plant, From the Mandal forest on the way of Chopta, Uttarakhand dated 15/06/2014.
---
To me this is a Gentiana sp. Capsules have matured and completely open showing seeds inside. It could be G. capitata but since complete morphology is not visible it is difficult to reach at exact species.
---
Location
: Nagarkot, Nepal 
Date: 28 December 2016
---
Altitude: 9000 ft.
Date: 27 March 2018
---
Location: Champadevi, Nepal
Gentiana membranulifera 
subsp.
 membranulifera
 (accepted name)
Syn: 
Gentiana carinata
 (D. Don ex G. Don) Griseb. (synonym)  ???
---
I guess Gentiana capitata Buch.-Ham. ex D.Don is the correct ID !
---
Along with Yellow Flax and Viola (V. canescens), blue gentians are dappling our slopes. I have taken some photos in the past month and seek your opinion. I think these are G. argentea. Please advise.
Gentiana argentea—Silvery Gentians
6 February onwards,
Above Mcleodganj, Dharamshala, HP
1750-1800m
---
I think matches with the images at
Gentiana argentea
---
These also appear to be
Gentiana capitata Buch.-Ham. ex D.Don
 as per images herein, if all images are from the same set.
---
True, … This post is from before the correct identification. Thank you for contacting it for the record.
---
Thank you … Here is another cluster of these tiny yet brilliant flowers. 1 image.
---
References: