Pedicularis
pyramidata
Royle ex Benth.,
Scroph. Ind. 52 1835
. (syn:
Pedicularis coeruleo-albescens
Wendelbo;
Pedicularis kashmiriana
Pennell;
Pedicularis pectinata
var.
pyramidata
(Royle) Hook. fil.;
Pedicularis pyramidata
subsp.
kashmiriana
(Pennell) Tsoong);
.
NW-India, Afghanistan (Badakshan, Kunar / Nuristan, Orozgan / Daykundi, Parwan, Takhar), Pakistan (Hazara, Chitral, Kurram), Pakistani Kashmir (Astor, Gilgit, Baltistan, Deosai), Jammu & Kashmir (Dras, Kashmir, Ladakh, Zanskar, Poonch)
as per
Catalogue of Life
;
Request for Identification
Kindly identify the plant.
Location:
Paddar valley district Kishtwar J&K.
Altitude:
3850 meters asl.
Plant height: 45-60 cms

Habit/Habitat: Wild herb.
---
Pedicularis
Close up of flower necessary for species identification
---
Leaves and inflated calyx suggest Pedicularis Pyramidata, but flowers wouldbe conclusive.
---
To me also appear close to Pedicularis pyramidata as per Type specimen attached. 1 image.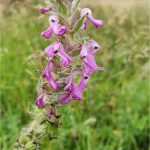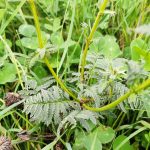 Pedicularis pectinata?? Location kashmir
: 2 high res. images.
---
Also I could not find a match as per comparative images at Pedicularis
---
To me it looks closer to P. pyramidata. Needs detail studies.
---
References: