India: W. Bengal, Sikkim, Assam, Nagaland, Tripura, Meghalaya, Andhra Pradesh, Karnataka and Tamil Nadu; Bhutan
as per
BSI flora of India;
---
Shrubs, younger parts villous. Leaves imparipinnate, 10-14 foliolate; leaflets opposite, 9-13 x 4-5.5 cm, ovate-lanceolate, apex acuminate, base rounded, hispid, below. Cymes short, axillary; flowers few, pedicel to 1 cm long; calyx tubular, lobes 8 x 3 mm, oblanceolate, leafy; petals 5, white, 3 cm long, spathulate, partly cohering below; staminal tube to 2 cm long, 10-toothed; anthers 10, apiculate; ovary 5-celled, cell 2-ovuled, style slender, longer than staminal tube. Capsule to 1.5 cm across, depressed globose, hispid; seeds 5, 7 x 5 mm, oblong, smooth.
Flowering and fruiting: September-May
---
Kindly identify this herbaceous plant.
Habit: Herb 
Habitat: Wild, Evergreen forest 
Sighting: Vanagoor, Sakaleshpur, Karnataka about 1000 msl 
Date: 28-04-2016
---
Could this be Turraea villosa??
---
Does not match with images at Turraea villosa 
---
Is this could be Naregamia species ?
---
Please check Munronia pinnata.
---
This plant is most probably Munronia pinnata (Wall.) Harms, belonging to the Family Meliaceae.
---
Munronia wallichii
---
---
Date : 07-05-2011. Habitat : Wild. Location : Thorangtlang, Mizoram
---
To me it looks like Munronia pinnata (Meliaceae).
---
---
Habit: Shrub

Habitat: Undergrowth of  mixed evergreen forest

Location: Maulvibazar

Flowering:  March
Picture taken: March,2008
---
Meliaceae?
---
Munronia pinnata (Wall.) W.Theob. ?
---
Thanks …
---
---
Please ID this small medicinal shrub with white flowers. Photo was taken in Sri Lanka in Dec 2012.
---
Nice photos…. Meliaceae?….
---
seed one that's showing and the out of focus flower does remind me of a Turraea?? but which one?
---
Thanks for the ID, it may be Turraea heterophylla!
---
This is not
Turrea
because the leaves are compound and indicates 3-foliate. It is most probably a species of
Jasminum
occurring in SriLanka.
The exact species could not be identified. It is probably
J. humile
or
J. flexile
, There are only a few species with trifoliate leaves. The identity depends on whether the leaves are opposite or alternate, which is not evident in the photograph. Only a Sri Lankan botanist will be able to help.
---
Looks like Munrovia pinnata. …, are you writing a book!!!
---
Yes, it is

Munronia

pinnata (Wall.) Theobald [Syn.: Turraea pinnata Wall.]

This species has highly variable leaves ranging from 3-foliolate to many-foliolate leaves with entire to toothed leaflets.

It is widespread in Asia.
---
16/06/2013 ASP 58
: Attachments (1). 4 posts by 3 authors.
Can you please ID this
medicinal herb with white flowers.
Photo was taken
in a private property
in Dec 2012 in Sri Lanka.
---
Munrovia pinnata. Rare and endangered in the wild because of over-exploitation for its medicinal value. This is not the wild cultivar.
---
---
Please ID this ornamental/medicinal herb with white flowers. Photo was taken in Sri Lanka in Sep 2012.
---
Meliaceae
---
I think it should be Munronia pinnata (Wall.) W. Theob. as per images herein.
---
.
---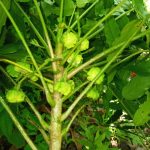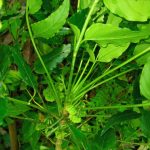 Euphorbiaceae ?: 2 images.
This is
from Pechartal, North Tripura
Kindly identify
---
Can you post the pictures of the leaves.
---
The flower? or fruit? in the second photograph look pentamerous… so could be something else too.
But I personally haven't come across this plant and cannot comment further.
---
I am unable to recognize this plant.
---
I think it is Munronia wallichii / M. pinnata [Meliaceae]
---