Viburnum foetidum Wall., Pl. Asiat. Rar. 1: 49, pl. 61 1830. (syn: Viburnum premnaceum Wall.);
S-Tibet,

NE-India, Bhutan, Myanmar [Burma] (Chin, Kachin, Mandalay), Bangladesh,

Laos, Thailand
as per
Catalogue of Life

;
---
Shrub about 5 to 10 ft tall. Bark grayish brown. Branchlets stellate hairy, purplish brown. Leaves opposite, rhomboidal or elliptic-lanceolate, 3-3.5 x 1-2 cm across, coriaceous, glabrescent above, pubescent on veins beneath, base cuneate or rounded, margin entire or shallowly dentate, apex acuminate to acute, lateral veins 3-4 on either side of midvein, lowest pair basal, petiole hairy, reddish purple, about 0.4-0.6 cm long, stipules usually absent. Inflorescence a multiparous compound umbel-like peduncled cyme, terminal in young branchlets 5-9 cm in diameter, 4-8 whorled rays, peduncled. Flowers creamish white, bracts and bracteoles from linear-oblong to spathulate-oblong hairy. Calyx teeth minute, triangular. Corolla white short, lobes about 2 mm in diameter, round. Stamens 5, slightly longer than the corolla lobes exerted, anthers yellowish white. Styles slightly longer than the corolla lobes exerted. Fruit drupe, scarlet red when ripe, oblong-ellipsoid, compressed. Seeds dorsally 2-grooved, ventrally 3 grooved, albumen uniform.
Flowering/Fruiting: June-November
Forests at an altitude of about 3,000 to 5,000 ft; and cultivated.
Asia: Bangladesh, Bhutan, China, India: Assam, Manipur, Meghalaya, Myanmar, Thailand
(Attributions- Ganeshaiah, K. N., UAS, Bangalore, India. Kailash, B. R., UAS & ATREE, Bangalore, India from
India Biodiversity Portal
)
.
---
Viburnum sp? Possibly V. foetidum.
---
Thanks, … You seems to have directed us in the right way.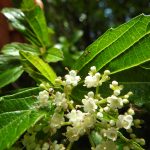 MS,Oct.,2021/24 Undershrub for id
: 1 high res. image.
Location : Reiek tlang
Any habit image or any other image ?
---
Sorry ! Not available sir
---
I think some Viburnum.
---
Viburnum foetidum Wall.
---
Any other images and keys?
---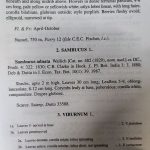 ---