Common name: Two-Leaved Corydalis
---
Id Please
A herb from Manali, Himachal pradesh
16 May, 2015
---
Perhaps Corydalis ……. the experts could tell better…. but a view of leaves an plant would have helped… 🙁
---
It appears as Corydalis rutifolia to me. Leaves required for confirmation.
---
Corydalis diphylla Wall., Tent. Fl. Napal. 54 1826. (syn: Corydalis rutifolia auct. non (Sibth. & Sm.) DC.: Hook. f.) as per Flora of Pakistan;
---
FoI, POWO and GBIF showing distribution in Himalayan range!
---
.
---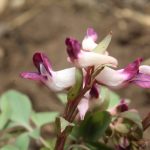 Identification required
---
When and where was this taken ?
Is there any image showing the leaves ?
---
Corydalis
---
At dachigam national park kashmir.
---
Maybe Corydalis diphylla Wall. as per comparative images at Corydalis as requisite details are not there in the image. 
---
Seems to be
Corydalis rutifolia
---
It is not reported from India as per POWO.
---
.
References: Catalogue of Life  The Plant List Ver.1.1  GBIF (High resolution specimens) Flora of Pakistan (syn. Corydalis rutifolia auct. non (Sibth. & Sm.) DC.: Hook. f.) FOP illustration IIIM (Specimen) Flowers of India