Jasminum lanceolaria Roxb., Fl. Ind. 1: 98 1820. (syn: Jasminum discolor Franch.;  Jasminum dunnianum H.Lév.; Jasminum lanceifolium Roxb., not validly publ.; Jasminum lanceolaria var. puberulum Hemsl.; Jasminum lanceolaria f. unifoliolatum Hand.-Mazz.; Jasminum lonchophyllum Voigt;  Jasminum pachyphyllum Hemsl.; Jasminum paniculatum Roxb.; Jasminum shimadae Hayata; Jasminum superfluum Koidz.);
.
Assam to Nansei-shoto and Indo-China: Andaman Is., Assam, Bangladesh, Cambodia, China North-Central, China South-Central, China Southeast, East Himalaya, Myanmar, Nansei-shoto, Taiwan, Thailand, Vietnam as per POWO;
.
---
MS,Dec.,2020/01 Jasmine sp. for Id.: 3 images.
Location : Sairep
Date :29-11-2016
Habit : Climber
Habitat : Wild
---
I think it is Jasminum lanceolarium as per keys furnished by you from Mizoram in another thread (MS Nov, 2020/05 Jaminum sp. for Id) and as per
---
.
---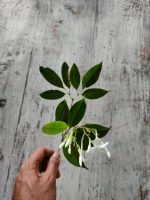 Id please: 1 high res. image.
Location: stream valley, Laitkor forest,

Shillong, Meghalaya,1500 m elevation, 08/06/2022
Height: Climber, greater than 13 ft, 
Flowers: Scented,5 OR 6 petalled flowers,  pure white even at bud stage
leaves:  trifoliate , elliptic shaped and opposite.
---
Pl. check
https://efloraofindia.com/2011/03/10/jasminum/
---
Pl. check with images at Jasminum lanceolaria Roxb.
Any keys available from Meghalaya?
---
Thankyou very much for the link to the thread!
It is indeed Jasminum lanceolaria, trifoliate, lanceolate leaves, with berries and salver form flowers. Checked later on flora of china and confirmed too!
---
---
.
References:
POWO  Catalogue of Life  The Plant List Ver.1.1  IPNI  GBIF (High resolution specimens) Flora of China  India Biodiversity Portal