Asystasia nemorum Nees, Pl. Asiat. Rar. 3: 90 1832. (syn: Asystasia blumei Nees; Isochoriste javanica Miq.; Ruellia clavata Reinw. ex Valeton);
.
China (Yunnan to Guangdong) to Indo-China, Jawa to Lesser Sunda Islands: China South-Central, China Southeast, Jawa, Laos, Lesser Sunda Is., Myanmar, Thailand, Vietnam as per POWO;
.
---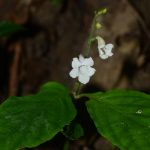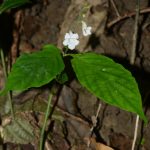 MS,Oct,2021/36 Herb for id.: 2 images.
Location : Ailawng
Date : 23-11-2018
Habit : Herb
Habitat : Wild
To me looks something like Asystasia, but unable to get the id.
---
I agree this is probably Asystasia. It might be worth comparing with A. nemorum – it is not A. gangetica.
---
https://observation.org/species/265766/
---
2 high res. images.
---
Taking it as A. nemorum
---
---
Pseuderanthemum????
---
Yes Sir Ji plant looks quite like Pseuderanthemum. But I have never seen this variety and colour combination
---
Looks like Asystasia intrusa to me. Family: Acanthaceae (Ruellia family)
---
yes this is Asystasia intrusa watch this
http://www.flickr.com/photos/scottzona/5621581909/
---
---
.
References:
POWO  Catalogue of Life (Asystasia gangetica subsp. gangetica) The Plant List Ver.1.1  IPNI  GBIF (High resolution specimens) Flora of China  FOC illustration
http://www.natureloveyou.Asystasianemorum/
https://www.flowersofindia.WoodAsystasia