Artemisia tournefortiana Rchb., Iconogr. Bot. Exot. 1: 6 (1824) (syn: Artemisia armeniaca Willd. ex Ledeb. ; Artemisia hispanica Jacq. ; Artemisia pyromacha Viv. );
.
Türkiye to Central Asia and W. Himalaya: Afghanistan, California, East Himalaya, Iran, Kazakhstan, Kirgizstan, Mongolia, Nepal, North Caucasus, Pakistan, Tadzhikistan, Tibet, Transcaucasus, Turkey, Turkmenistan, Uzbekistan, West Himalaya, Xinjiang; Introduced into: Amur, Baltic States, Belgium, Central European Rus, Czechoslovakia, Denmark, Finland, France, Germany, Great Britain, Ireland, Italy, Netherlands, Northwest European R, Norway, Poland, Portugal, Spain, Switzerland, Ukraine as per POWO;
.
---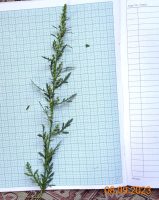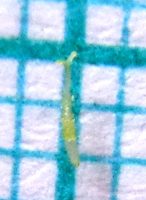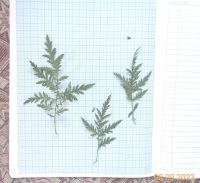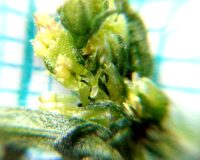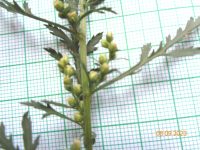 Kindly help ID this Asteraceae member from Srinagar: 8 images.
Am attaching  photos of a weed that is  common here. Request help in its identification.
Habitat : Wild. Growing in a field
in Rawathpora Srinagar.
Habit: Herb 1-2 m high.
Inflorescence seems to be a capitulum (2mm dia) with only disc florets. Tiny white bifid styles project outwards and may serve to attract insects. Leaves very dissected and ferny.
Photos taken on 8 and 9 September.
All photos in this and my other posts are under CC-License(Attribution only needed)
---
Could it be Artemisia indica ?
On crushing the leaves I found them to be aromatic though they they do not smell as strongly as wormwood also a common weed here. 
Also unlike wormwood (A.absinthium) it is an annual and the leaves too are not bitter in taste.
---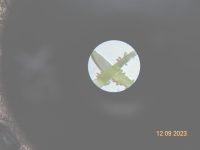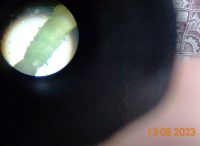 In my previous post I had wrongly written that there are only disc florets. I have since come upon a paper regarding closely related A.annua:
Floral Morphology and Floral Sequence in Artemesia annua (2014) Hazel.Y.Wetzstein et al Amer.Jr.Bot 101 (5) 875-885.
According to this paper outer florets are pistillate ray florets. So the florets with thick styles are ray florets. Inner disc florets are hermaphroditic I could also not see anthers. According to this paper the  anthers fuse and form a tube around the style(not visible from outside). The paper also mentions presence of glandular trichomes on corolla and other parts which produce artemisinin a critical antimalarial drug. I could also see these glands (see photos).
If this species also produces artemisinin then it is of great economic importance. It would be nice if the Indian Institute of Integrative Medicine situated very near Rawathpora and the Botany Dept Of Kashmir University make an intensive study of this interesting plant which if exploited could be of great economic value as malaria is widespread in India and hence there is demand for the antimalarial drug.
2 images.
---
I think looks different from images at
https://efloraofindia.com/2015/01/13/artemisia-indica/
Also could not find a match as per comparative images at
https://efloraofindia.com/2011/02/07/artemisia/
---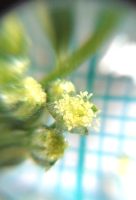 One more photo:
Magnified view of a Capitulum. Thick bifid styles of outer ( Pistillate, Ray florets?) are prominent. Styles of inner (hermaphrodite disc florets?) not prominent.
Photo taken today only on 18th September
1 image.
---
What are the species listed in Srinagar ?
---
I do not really know it
… might guide us in this matter as he has done considerable work on Srinagar flora.
---
This looks like Ambrosia artemisiifolia, a naturalized species in India.
---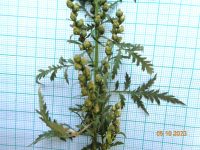 Leaves are very similar but the following features are puzzling when when I do an image search for
Ambrosia artemisiifolia
 on Google
1. Stems are nowhere as hairy as in google images.
2. In google images the capitula all point downwards but in my plant they all point upwards. (Please see attached photo)
3. In my plant the florets are of two distinct types. Outer florets with thick white bifid styles projecting out forming a white ring. I could not see such projecting bifid styles in outer florets on google images. (Please see my photos in previous posts).
4. Inflorescence seems to be of a different type from that in google images,
5. Some Google images show deep yellow flowers(Hence the name ragweed) but I have never seen this weed with such yellow flowers. If I ever see it I will  post the photos here.
… has posted A.artemisiifolia from Canada in October 2019 on EFI so he could kindly shed more light on this.
---
Please check Artemisia tournefortiana Rchb. !
---
I think ID is very plausible. FOC mentions pistillate florets and glands
Request opinion from experts in the field.
---
This is Artemisia tournefortiana Rchb., a common weedy annual.
---
---
.
References:
POWO  Catalogue of Life  BSI Flora of India  Flora of China  FOC illustration Annotated checklist of Flowering plants of Nepal Useful Tropical Plants