---
Orchidaceae- Bulbophyllum species
Hulase Honda (Hulase Tank/Pit), Sondaa,
Near Shalmala River, Uttara Kannada district, Karnataka
Film camera- Pentax
18 Aug 2010
---
Nice photo of the orchids. Where are the flowers ? I think it is not the flowering season now.
---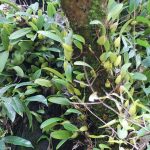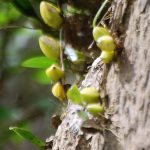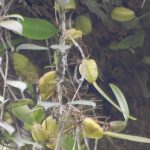 We could sight
Bulbophyllum
species in atleast half a dozen trees, none of them were flowering during the season.
Sharing few photos from
another village, near Chandragutti, Soraba, Shimoga district
20 Aug 2010
---
Bulbophyllum indeed but not sure of the species
---
Bulbophyllum is the easy way out, but for those who dont know, tere
are many species which has bulbous leaf but they are not Bulbophyllum,
but they are found in South India. Next time please try to have
at least fruits with the plants…..
If I had to make one guess then that should be "Bulbophyllum mysorense".
Why?

---
This cant be confirmed without flowers! But yes Bulbophyllum.
---