Solanum nigrum ?;
Location Kalatope, Chamba
Altitude 2100 mts

Habit herb
Habitat wild
Plant height 7-8 inches

Flower dia 3-4 mm
---
May not be surprised if it turns out to be Solanum nigrum. Let us wait for fruits.
---
Looks like Solanum nigram, commonly known as 'ganike gida' in Kannada.
---
may be ecotype of Solanum nigrum 
---
I agree… this is Solanum… a pair of unripe fruits seen in the first picture (below the opened flower).
---
I take it as Solanum nigrum?
---
There were no fruits when the picture was taken.
---
---
Location: Chalnakhel , Nepal


Altitude:  5000 ft.
Date: 12 November 2016
---
Solanum americanum is not listed in Nepal.
.
---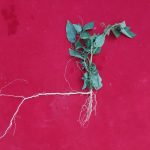 weed from Jhansi 2: 1 high resolution image.
Please help me to identify this weed.
Solanum ??
---
Second one Solanum nigrum
---