---
Pseudobulb ovoid, 2 x 1.5 cm. Leaves solitary, 6-7.5 x 1-1.5 cm, linear-oblong, base subacute; petiole 1 cm long, obtuse, emarginate at apex. Flowers 3-4, white, in about 5 cm long umbel from the base of pseudobulb; bracts 4 x 1 mm, lanceolate, acuminate, 1-veined; dorsal sepal 14 x 3.5 mm, lanceolate, acuminate, 5-veined; lateral sepals 16 x 3 mm, lanceolate, long-acuminate, 5-veined; petals 4.8 x 3.6 mm, elliptic, linear-lanceolate, acute, 3-veined; lip 3 x 1 mm, oblong, acute, curved.
Flowering and fruiting: June-September
(Attributions- Dr. N Sasidharan (Dr. B P Pal Fellow), Kerala Forest Research Institute, Peechi
Orchid_2_Gutti_29-7-2015 for ID assistance. : 2 posts by 2 authors. Attachments (5)
Submitting images of an epiphytic Orchid for identification.
Date/time: 29-7-2015/ About 5-00 pm
Location: Gutti, Mudigere, Chikmagalur, Karnataka about 1300 msl
Habitat: Wild, epiphytic.
Habit: Herb.
---
It is my pleasure to share a few images of Bulbophyllu mysorense(Orchidaceae)
Habitat: Moist deciduous and semi-evergreen forests
Sighting: Gutti, Mudigere, Chikmagalur, Karnataka, between 1300 msl.
Date:29-07-2015
---
Very nice to see orchid and especialy a Bulbophyllum and that too with fruit.
---
---
No words to describe these beauties from your lens.
---
Very nice and pretty. May I know the size of flower if possible? Thanks a lot for sharing.
---
Thanks … the flowers were approximately one cm across and not more.
---
Looks like elder brother of my plant, Bulbophyllum levinei. Please see attached. Attachments (1)
---
Thanks … for the nice image …and letting me know of a new species.
---
---
It is my pleasure to present few more images of Bulbophyllum mysorense (Orchidaceae)  
Habit: Herb 
Habitat: Wild, epiphytic, Evergreen forest fringe 
Sighting: Devaramane, Chikmagalur, Karnataka, about 1200 msl 
Date: 20-07-2016
---
Is it possible for you to take a picture with the scale? Very nice.
So close to Bulbophyllum levinei, just that plant looks bigger and bulbs are not clumped together. I would also be grateful if you can share the closeup of a single flower to look at the column.
---
I am forwarding a close up image of the flowers as desired by you. I will revisit the plant shortly and get images with a scale and forward the same.
---
Ok sir. I can see the difference now. Lateral petals in yours have entire margin mine doesn't. Thanks for sharing.
I also see some insects inside. Not pollinators but nay have something to do with pollination.
---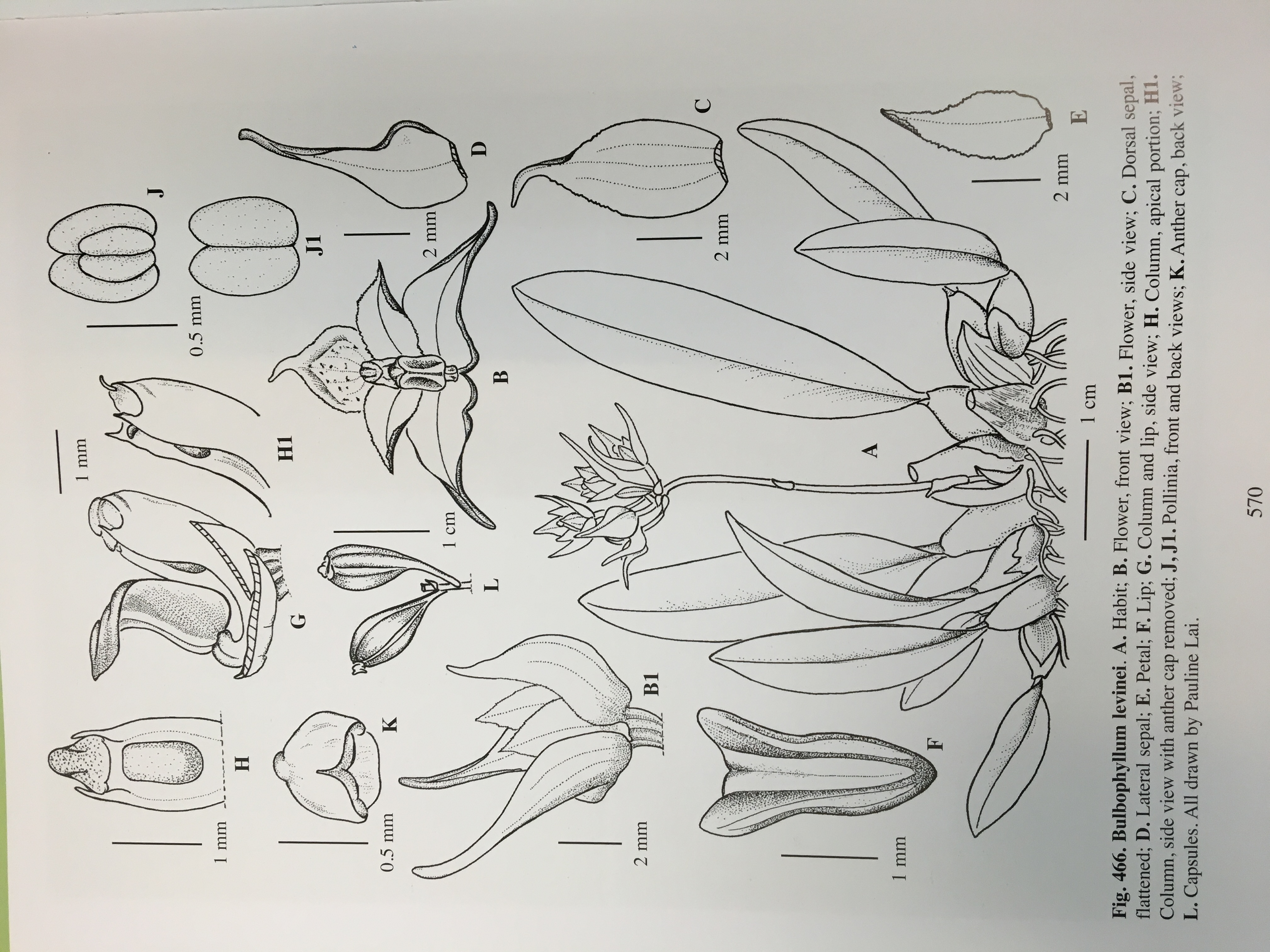 Here is the illustration fromThe Wild Orchids of Hong Kong. Attachments (1)
---
Thanks for the illustration …, noted for guidance. Saw your images of B.levinei in the efl page….Amazing indeed and what a striking resemblance to B.mysorense unless you have a discerning eye. Read that B.levinei  is distributed from S.China to Vietnam. Is it found in Peninsular India…?? Kindly enlighten me so that I can look for it.
---
---
Family: Orchidaceae
Date: 31st July 2016
Place: Chikamagalur, Karnataka
Habit: Epiphytic herb
Habitat: Coffee plantations at around 800 msl
---
Liked the 4th one most.
---
Very nice pics. Thanks a lot for sharing. Yes the fourth image really helps a lot in identification for bulbophyllums apart from the whole plant body.
Beautiful and very rare, Bulbophyllum mysorense.
---