---
Pseudobulbs cylindric fusiform, rugose, pendent, covered with fibrous sheaths 2.5-7.5 x 1-1.5cm; sheaths overlapping, 1-1.6cm long.Leaves linear lanceolate, acuminate8-17.5 x 0.8-1.6cm; petiole 1.2-1.4cm long.Inflorescence proteeranthous semi erect la x ly 14-many flowered, peduncle sheathed, 2-5cm long; sheaths overlapping rugose, 0.6-6cm long; rachis rigid glabrous , 7-14 cmlong; floral bracts persistent linear oblong, subtruncate scarious, column orange brown, pedicel and ovary 4-5mm long. Sepals free subequal linear oblong, obtuse spreading 7-8 x 1-1.5mm. Petals linear oblanceolate, obtuse spreading. 4.5-5 x 0.5-1mm.Lip 4-6mm long, base shortly saccate; laterals lobes short, erect rounded acute, concave defle x d.Column short curved lacking a foot, slightly winged and dilated at ape x 4-5 x 0.8-1mm. Fruit ellipsoid beaked, 0.9-1.1 x 0.4-0.5cm.
(Attributions- N. R. Pearce & P. J. Cribb. Orichds of Bhutan. Published by RGoB and RBGE. 2002 from Bhutan Biodiversity Portal)
.    
---
Location : Sairep, Mizoram
Date : 25-01-2017
Habit : Epiphytic orchid
Habitat : Wild
---
Its better to have flower closeup.
I think this is Otochilus fuscus.
Thanks for sharing.
---
---
Location: Godawari Botaical Garden
---
---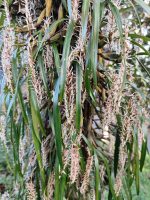 MS,Jan.,2023/02 Orchidaceae for id.
:
Location : Durtlang, Mizoram
Habitat : Cultivated/Wild
---
Otochilus now Coelogyne! Please check efi !
---
May I request you to post high res. images.
---

1 image
---
Should be Otochilus lancilabius
---
looking at the narrow leaves it looks closer to Coelogyne fusca (Otochilus fuscus), at least from these drawings:
From the description, I can't make out the difference between the flowers of the two species. Do check out.
---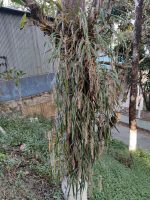 1 very high res. image.
---
… should be correct.
Its my mistake.
---